Search area changed by moving map.
Stadtbredimus
8

results match your criteria

Receive new ads as soon as they are published
Listings
at this marker:
x
TOP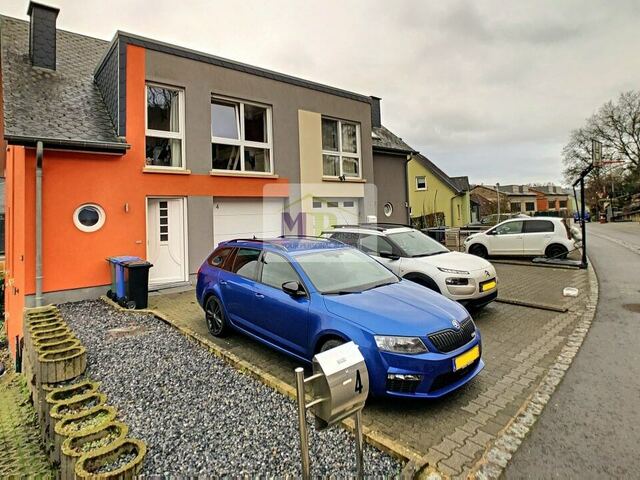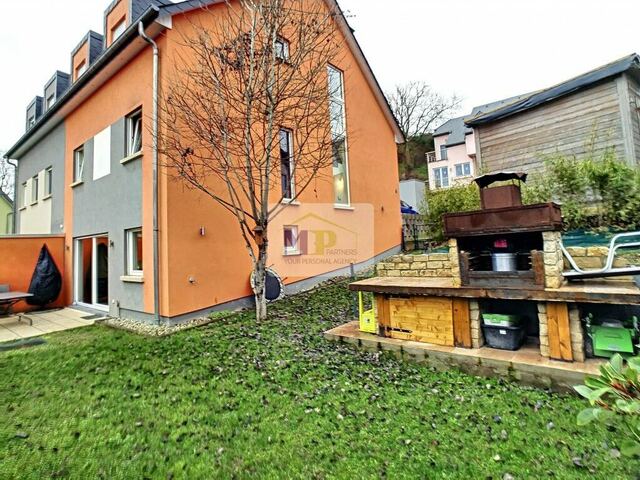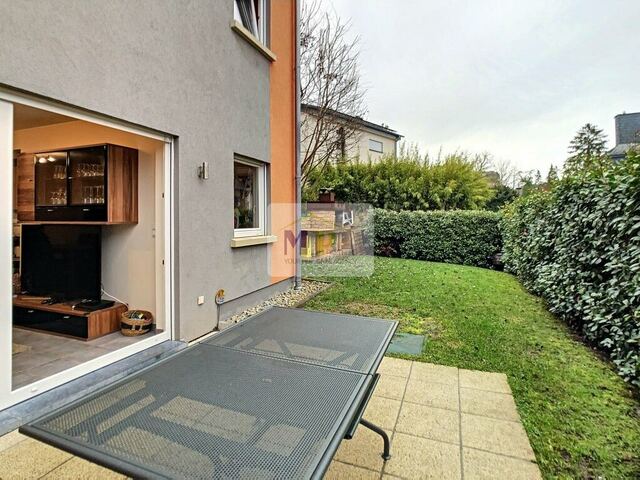 House for rent in STADTBREDIMUS 1IGNV
MP Partners vous propose en location une charmante maison avec terrasse et jardin dans les collines de la paisible commune mosellane de Stadtbredimus. Surface habitable: +/- 135m² Surface totale: +/- 173m² -1 étage - Hall d'entrée de +/- 6.47m² - Living spacieux avec accès à la terrasse et au jardin de +/- 18.65m² - Cuisine équipée ouverte de +/- 12.78m² - W.C séparé de +/- 1.71m² - Cave de +/- 9.08m² - Buanderie de +/- 9.05m² Rez-de-chaussée - Hall d'entrée de +/- 7.24m² - Chambre à coucher de +/- 16.56m² - Chambre à coucher de +/- 14.59m² - Chaufferie +/- 4.84m² - Garage de +/- 14.57m² 1er étage - Hall de nuit de +/- 4.95m² - Chambre à coucher de +/- 16.60m² - Chambre à coucher de +/- 13.29m² - Mezzanine de +/- 8.73m² - Salle de bain avec douche, fenêtre et W.C de +/- 10.10m² - Débarras de +/- 3.26m² Disponibilité: 01.08.2021 Conditions de location: Loyer: 2.500.-€ Charges: suivant consommation Caution: 3 mois de loyer: 7.500.-€ Frais d'agence: 1 mois de loyer + TVA: 2.925.-€ Pour plus de questions par rapport à cette charmante maison, n'hésitez pas à nous contacter au 621 832 227 (Madame Nemes Olga) ou au 26 38 47 et nous répondrons avec plaisir à toutes vos questions.
FIRST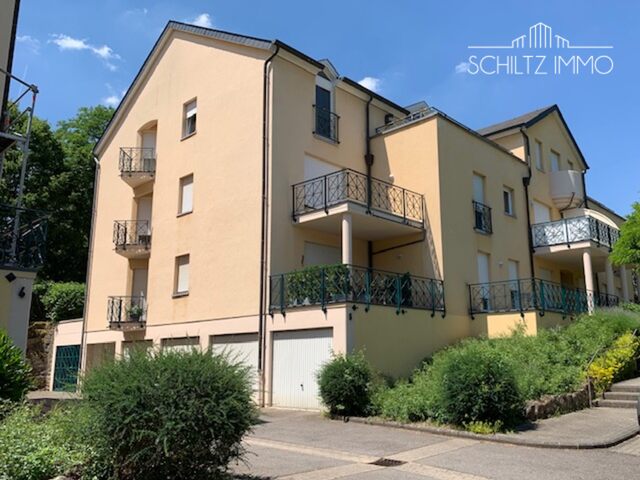 FIRST
Exclusiveness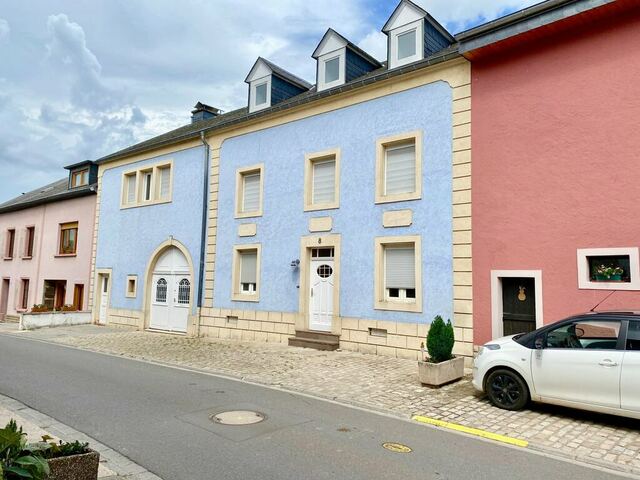 Village house for rent in STADTBREDIMUS 1I8ZG
Immo National vous propose Spacieuse belle maison vigneronne entièrement rénovée à louer au coeur du village pittoresque de Stadtbredimus très bien agencée sur 3 niveaux avec +/- 340 m2 habitable, état excellent, située dans une rue calme, paisible et résidentielle implantée sur son terrain avec orientation sud, ideal pour grande famille et/ou profession libéral, à +/- 20 km de Luxembourg-ville ainsi proche des transports publics. Cette belle propriété se compose comme suit: Rez-de-chaussée: Hall d'entrée, 2 chambres/bureaux, cuisine individuelle équipée, accès vers grand sous-sol, garage, jardin et terrasses, grand garage pour 3 voitures, accès vers grande terrasse couverte (+/-35 m2). Etage: grand hall de nuit, 2 grandes chambre à coucher, grande salle de bain avec baignoire, douche et WC, spacieux double séjour (+/- 50m2) lumineux avec cheminée, grande cuisine équipée individuelle. Combles; hall de nuit, 2 grandes chambres, grande salle de bain avec baignoire, douche et WC, grande pièce (+/- 40 m2) se prêtant pour salle de jeux, fitness ou similaire Sous-sol: divers de grandes caves, caves voutées de vin sortie vers jardin et terrasses. Absolument à visiter ! Loyer/mensuel 3.250€ Depot de garantie 3 mois de loyer Commission d'agence 1 loyer plus 17% TVA Pour de plus amples renseignements et/ou visites, n'hésitez pas à contacter M. Jim Grethen au 621 208 050 ou par email jim@immo-national.lu
House for sale in GREIVELDANGE 1H3W7
965 000
250 m²
4 Rooms
3
6
Maison libre de 3 côtés, complètement rénovée en 2016/2017 situé sur un terrain de 4,30 ares se compose comme suit: rez-de-chaussée: - hall d'entrée - WC séparé - salle de bains - dressing - chambre à coucher de 23,3m2 (avec accés extérieur) - bureau de 9m2 - Garage / Cave / chaufferie (pellets 2016) Etage 1: - cuisine ouverte avec accès terrasse - living / salle à manger - Chambre à coucher de 13,80m2 - Chambre à coucher de 20,96 m2 - Dressing de 9,57 m2 - Salle de bains de 9,9 m2 Etage 2: - Espace de vie de 63 m2 - Salle de bains de 9,9 m2 Rénovations 2016/2017: Fenêtres triple vitrage Chauffage au sol Chauffage pellets Installation alarme préinstallée Nouvelle toitures 2016 Façade 2017 (isolation 21cm) Emplacement pour 5 voitures devant la maison En cas d'intérêt, veuillez contacter Monsieur Antonio Palazzi T. 671 511 837 Disponibilité: à convenir
Apartment for sale in STADTBREDIMUS 1I4X7
*** SOUS COMPROMIS *** Au dernier étage d'une petite copropriété de 8 unités, magnifique duplex moderne rénové fin 2018. Ce beau bien offre une surface habitable d'environ 98m² et se compose un premier niveau d'un hall d'entrée avec wc séparés et espace de stockage sous l'escalier, un living lumineux d'approximativement 30m² exposé sud-est avec cuisine ouverte entièrement équipée de 2015 et cellier attenant (avec raccordement pour machine à laver) et une salle à manger ou bureau de 12m². A l'étage 2 belles chambres à coucher (environ 12m² et 13m²) et une salle de bain rénovée en 2018 avec baignoire et douche italienne. Pour parfaitement compléter l'ensemble, une cave privative au sous-sol, un emplacement de parking intérieur et un emplacement extérieur. Un bel objet à visiter absolument! Prix annoncé frais d'agences inclus, à charge du vendeur. Informations complémentaires ou visite: Pierre Lavaux - 661 274 771 ~~~~~~~~~~~ Vous pensez à vendre votre maison ou votre appartement? C'est une décision importante! Nous sommes là pour vous accompagner, avec efficacité. Nos estimations sont sérieuses, réalistes et gratuites. Profitez-en! Chacune de nos annonces sont réalisées avec un soin tout particulier. Votre bien sera mis en valeur comme il le mérite! Contactez nous: Laforêt Prestige - 27 47 72 glacis@laforet.lu ________________________________________________________________ Les informations fournies par l'agence ont un caractère indicatif et non contractuel. En conséquence, elles ne peuvent engager la responsabilité de l'agence et ne dispensent pas la personne intéressée de réaliser les vérifications. Disponibilité: à convenir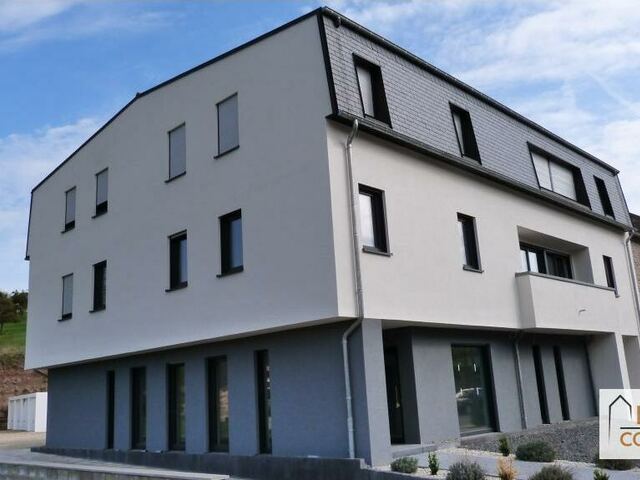 Office for rent in GREIVELDANGE 1HTKD
Tags | office - parking - Greiveldange What: small offices to rent, with possibility to use a meeting room, separate toilettes and a kitchenette. A series of services - electricity, heating and cleaning - are already included in the charges (60 €) to be paid next to the monthly rent. The property also includes an outside parking that can be used by employees and/or customers. Where: this property is situated in Greiveldange, a small section of the commune of Stadtbredimus, in south-eastern Luxembourg. This little village is surrounded by the countryside and is situated only 800 m away from the Moselle River as well as at some 20 km from Luxembourg City. Why: these premises are an ideal opportunity for small businesses that require an auxiliary office as well as (sale) representatives who are always on the go but need a pied-à-terre where they can continue their work between their various appointments. Rent: 360,00€ Charges: 60,00€ Warranty: 2'100,00€ Agency commission: 421,20€ Minimum contract duration: 1 year Availability: June 1, 2021 All information has been provided by the owner. No responsibility will be assumed for the accuracy and completeness of this information. Please contact Mr. Jean-Paul ROMMES at GSM 621 68 77 76 or by email at info@living-concepts.lu if you wish to make an appointment or if you have any further questions.
House for sale in GREIVELDANGE 1GM2P
1 050 000
230 m²
4 Rooms
2
2
***SOUS COMPROMIS*** Commune de Stadtbredimus située à l'écart de la Moselle, dans la vallée verte, dans une rue calme au cœur du joli village de Greiveldange, à seulement 20mns du Kirchberg, agréable maison de vigneron mitoyenne et complétement rénovée. La façade garde tout son cachet de l'ancien grâce à ses encadrements de fenêtres d'époque bien conservés et son linteau de porte encore daté. Posée sur un terrain de 3a42, d'une superficie habitable d'environ 176m² en surface habitable (230m² en surface totale) elle se compose comme suit: Au rez-de-chaussée: - Salon de 28.47m² avec accès buanderie - Garage de 28.98m² - Douche et wc - Chaufferie Au premier étage : - Cuisine ouverte de 15.50m² donnant sur la salle à manger de 13.83m² (accès à une terrasse de 19.25m² bien exposée et au jardin) - 2 chambres de 15.18m² et 16.35m² - Salle de bains de 6.87m² Au deuxième et dernier étage : - Salle de bains avec wc de 7.94m² au sol - 2 chambres de 17.7m² et 30.61m² au sol En complément, une cave voutée à l'avant de la maison, un joli jardin intime ainsi qu'un abri avec four à bois. Disponibilité à convenir. Pour toute information ou organiser une visite, contacter le 00352 661 123 903 ou le 00352 621 370 896.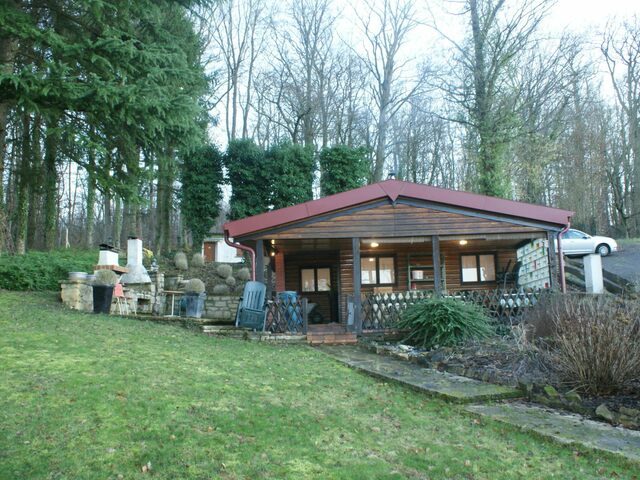 Cottage for sale in STADTBREDIMUS 12FZB
SOUS COMPROMIS !! IMMO EXCELLENCE vous propose ce joli chalet entièrement meublé avec annexe d'une surface totale d'environ 45 m2, situé sur un terrain de 10.9 ares et offrant de magnifiques vues bien dégagées. Le chalet principal se compose comme suit : Une nouvelle cuisine équipée, une grande pièce ouverte pouvant servir de double séjour ( living et salle-à-manger ) avec espace pour dormir. La pièce dispose également d'un poêle. A l'extérieur vous trouvez deux belles terrasses dont une avec barbecue et four à pizza. L'annexe du chalet se compose d'une salle-de-douche, d'un atelier, ainsi que d'une pièce supplémentaire. Plusieurs possibilités d'emplacements de voiture se trouvent à côté du chalet. Internet à travers Eltrona. La toiture ainsi que l'électricité ont été refaits. Les frais pour l'électricité se situent aux alentours de 50.-Eur tout les deux mois. Le raccordement à l'eau est disponible principalement de mars à novembre moyennant quelques frais supplémentaires. La commune refuse une adresse principale à cet endroit. Possibilité d'une adresse secondaire. Objet et situation unique !! Disponibilité: immédiate

Suggested listings in proximity