Search area changed by moving map.
Schwebsange
3

results match your criteria

Receive new ads as soon as they are published
Listings
at this marker:
x
FIRST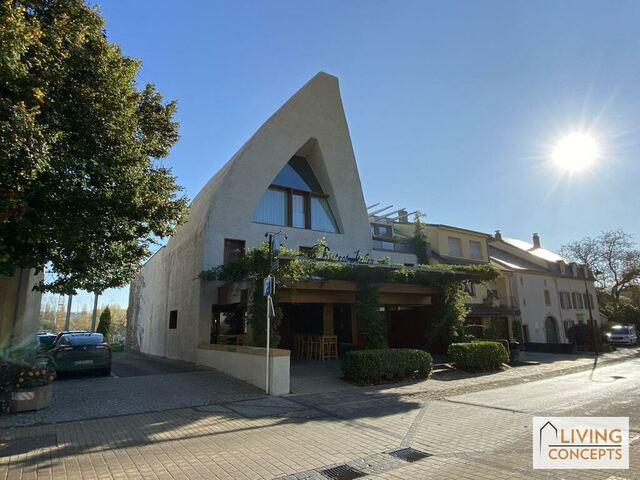 Investment property for sale in SCHWEBSANGE 1K1YD
Tags | investment property - 1 commercial premises - 1 office - 4 flats - 6 car parks - Schwebsange (Schengen) What: Modern and unusual investment building designed by a world-famous architect with a total surface area of approximately 720m2 (without lift) on a 10.23 ares plot of land consisting of : - commercial premises currently occupied by a restaurant of approximately 300m2 - an office of about 54m2 - a flat with 1 bedroom of about 62,5m2 with a terrace of about 14m2 - a flat with 1 bedroom of about 80m2 with a terrace of about 14m2 - a flat with 2 bedrooms of about 110m2 with a terrace of about 15m2 - a 3 bedroom flat of about 115m2 with a balcony of about 10m2 The building also includes 6 outdoor parking spaces, a cellar and two outdoor terraces reserved for the restaurant. An alcohol license belonging to the building is included in the sale. Where: In Schwebsange, a small village on the Moselle river, part of the municipality of Schengen in the canton of Remich. Schwebsange is a very charming town, known especially for its wine growing, and benefits from excellent connections to Luxembourg City as well as to neighbouring countries. Why: A modern investment property with a completion date of 2014, the building enjoys an excellent location with a view of the vineyards in the distance, close to the Moselle and its ponds. All premises and flats are currently rented out. All information has been provided by the owner. No liability will be assumed for the accuracy and completeness of this information. Please contact Mr. Jean-Paul ROMMES at GSM 621 68 77 76 or by email at info@living-concepts.lu if you would like to make an appointment or if you have any further questions.
Under offer
Villa for sale in SCHWEBSANGE 14XGL
1 450 000
300 m²
5 Rooms
1
1
VILLA in SCHWEBSANGE (Schengen, ), Luxembourg. Year Built 2005. Living suface (m²) 300. Rooms 5. Garden. Terrace. Balcony. Bathroom. Garage. Energy pass D. Thermal protection class D.
Under offer
Cottage for sale in SCHWEBSANGE 1H03V
Daniel Frères Immobilière, vous propose un abri de jardin très rare se reposant sur un terrain de 20 ares. Le chalet se compose : - cuisine, - living, - salle de douche avec wc, - 1 chambre Un coup de coeur à voir absolument !!!

Suggested listings in proximity