Search area changed by moving map.
Weiler-la-tour
9

results match your criteria

Receive new ads as soon as they are published
Listings
at this marker:
x
TOP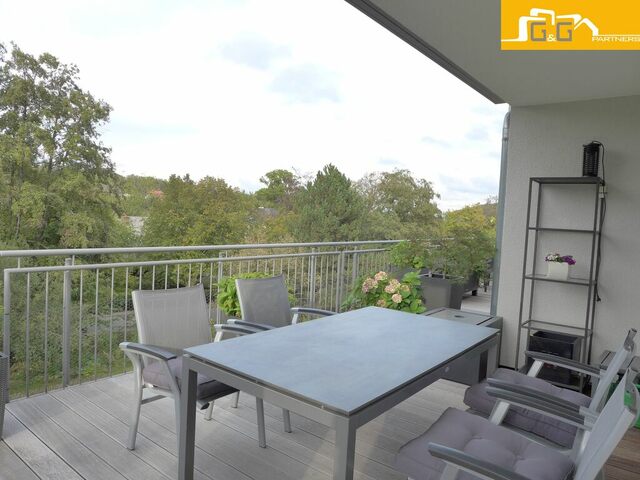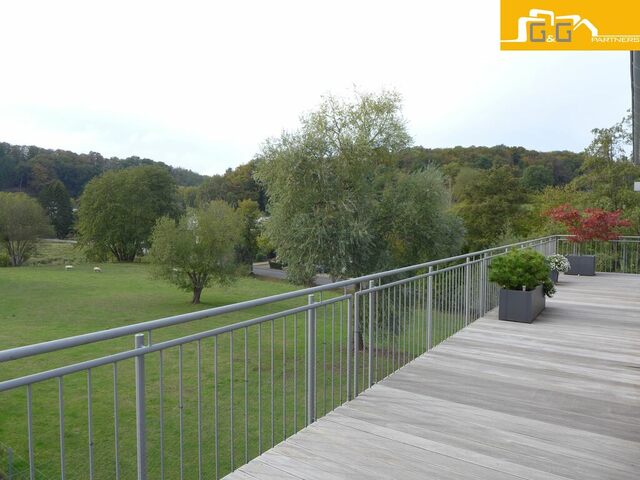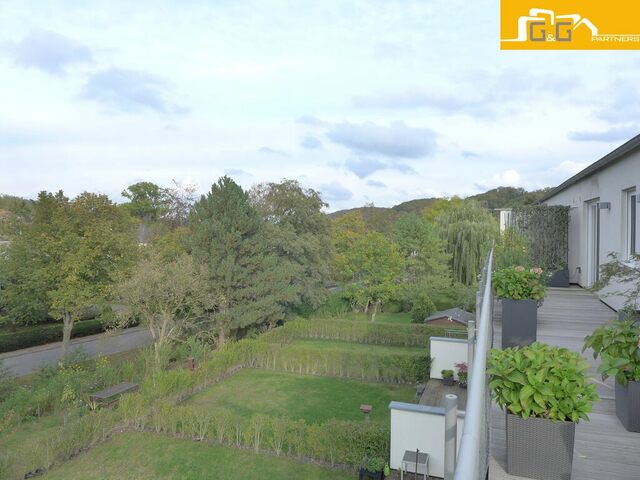 Apartment for sale in SYREN 1F48E
1 450 000
300 m²
3 Rooms
1
3
Magnificent luxury penthouse of +- 300 m2 living space with a large terrace of 75.55 m2 on the 2nd floor in a small neat residence from 2013 in Syren. Very rare object and ideal for people with reduced mobility. This property is composed of : - 1 large living room with open fully equipped kitchen of 51,08 m2 with access to the terrace - 2 beautiful bedrooms with access to the terrace - 1 large bedroom with private dressing room of 18 m2 with access to the terrace - 1 large terrace of 75.55 m2 which goes around the penthouse - 1 large bathroom with whirlpool bath, Italian shower and WC - 1 shower room with hydromassage shower and WC - 1 spacious entrance hall with private laundry / storage room - 1 private outdoor location with easy access for people with reduced mobility - 2 private indoor locations with storage space - 1 large private cellar of 13.38 m2 - 1 large attic of +- 35 m2 in the common areas for exclusive use - Living area: 124.19 m2 - Useful area: +- 300 m2 - Free +- 03/2021 Don't wait any longer, contact us by: EMAIL: info@gng.lu TEL: 621 366 377
TOP
House for sale in WEILER-LA-TOUR 1G8O7
1 530 000
205 m²
4 Rooms
1
4
Weiler-la-Tour un village très prisé , nous vous offrons a la vente une belle maison construction de fi 2007 début 2008 parfaitement entretenue avec une décoration contemporaine. La maison s'organise sur trois niveaux + le sous-sol. Se compose d'une pièce de vie avec cheminée, d'une cuisine meublée et équipée, de 4 chambres dont une avec dressing. 1 salle de bain et une salle de douche, d'un wc indépendant et d'un double garage. Sous-sol, une grande salle de sport avec sauna pouvant accueillir 5 personnes, deux grandes caves, buanderie. Un terrain ensoleillé et une belle terrasse de 30m2 vous permettront de profiter pleinement du calme des lieux. La maison est situé face à un aire de jeux, idéal pour les enfants qui peuvent jouer dans la rue. La situation au calme et proche de la forêt, crèche, maison relais et école fondamentale a 5 minutes à pieds sont des atouts pour cette maison qui convient parfaitement pour une famille nombreuse. Pour plus d'informations et prise de rdv n'hésitez pas à nous contacter au +352 621 317 560. Le meilleur moyen de trouver votre future maison ou appartement c'est de prendre le temps de visiter avec IC GROUPE, l'unique Agence Immobilière présente dans les 5 régions de Luxembourg. Disponibilité: A convenir
House for sale in HASSEL 1GPKG
1 625 000
270 m²
3 Rooms
1
2
HASSEL / WEILER-LA-TOUR: magnifique maison de +- 270 m2 (surface brute) et sur un terrain de 6.80 ares comprenant: REZ-DE-CHAUSSEE: Hall d'entrée, bureau, w.c. séparé, cuisine complètement équipée avec débarras et accès terrasse/jardin, living/salle à manger avec feux ouvert et accès terrasse/jardin. PREMIER ETAGE: hall, trois chambres à coucher et une très grande salle de bains avec baignoire et douche. DEUXIEME ETAGE: une pièce. SOUS-SOL: cave, chaufferie, buanderie, atelier, garage. **Disponible fin d'année 2021** Vidéo:https://youtu.be/CluiEc62Hps Disponibilité: à convenir
Under offer
Apartment for sale in HASSEL 1F4U8
690 000
83.46 m²
2 Rooms
1
2
!! Visite virtuelle disponible: http://kai.immo/tours/Hassel/ !! KAi – Kay Agnes immobilière vous présente en exclusivité ce bel appartement avec 2 chambres à coucher et un magnifique jardin qui offre non seulement une oase de repos mais également une alternative d'occupation surtout lors de la pandémie. L'appartement est très bien situé, à seulement 10 minutes de la Cloche d'Or et de Luxembourg-Howald et à 3 minutes du prochain supermarché. Il se compose comme suit : 2 chambres à coucher (15,37m2 et 9,26m2 avec accès -à la terrasse), salle de bain avec baignoire et douche (7,35m2), WC séparé (1,61m2), cuisine (6,76m2) et séjour (28,74m2 avec accès à la terrasse), dont la possibilité d'en faire une pièce ouverte de 35.50m2. 1 emplacement intérieur avoir coin de rangement, 1 emplacement extérieur, libre d'un coté, un grenier de 4,65m2 et une buanderie commune complètent l'ensemble. N'hésitez pas de prendre contact au +352 691 198 222 / +352 30 91 97 ou par mail kay.agnes@luxadmin.lu pour des questions ou une visite.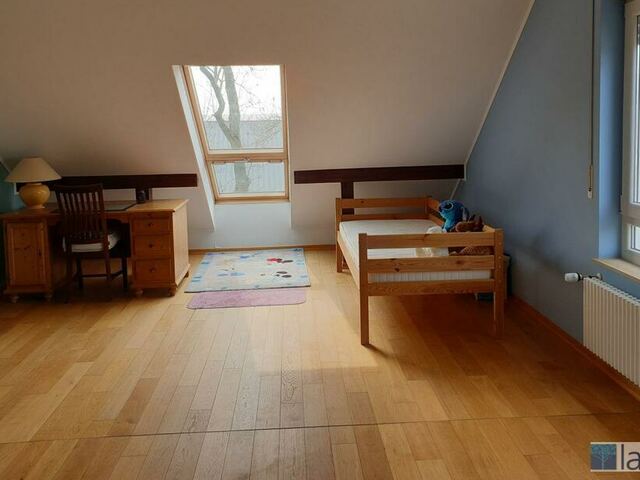 Room for rent in WEILER-LA-TOUR 1GJ7V
A Weiler-La-Tour, spacieuse et lumineuse chambre meublée d'une superficie de +/- 22m² habitables (36m² au sol), située au 2ème étage dans une maison en colocation. En parties communes : hall d'entrée, kitchenette, salle de douche avec WC et machine à laver le linge, terrasse et jardin. Stationnement aisé dans la rue. Situé à 15 minutes de la Cloche d'Or, 15 minutes de la Gare et 20 minutes du centre-ville. Disponibilité à convenir. Courte période possible ! Frais d'agence : 1 mois de loyer + 17% de TVA
Under offer
Exclusiveness
Apartment for sale in HASSEL 1ER1T
799 000
101 m²
2 Rooms
1
2
ENCORE UNE EXCLUSIVITE OP DER GANN! Appartement à vendre à Hassel, 2 chambres, terrasse, jardin, 2 emplacements, +/- 101 m2. Situé au rez-de-chaussée dans une petite résidence de 5 unités, ce magnifique appartement traversant vous séduira par ses volumes et sa luminosité. L'espace de vie salon/salle à manger est très chaleureux avec son parquet et son poêle à bois, il donne directement sur la terrasse et le jardin. La cuisine équipée donne également sur l'extérieur, ensuite vous accédez aux différentes pièces de l'appartement :2 belles chambres, une salle de bains avec toilettes, une salle de douche + buanderie avec toilettes et un espace de rangement. Le jardin privatif est entièrement clos et équipé d'une terrasse. 2 emplacement extérieurs. Très bon état général. Disponibilité: à convenir
Under offer
Individual house for sale in HASSEL 1C8AS
*** SOUS COMPROMIS *** Maison libre des 4 côtés à vendre à Hassel, 4 chambres, jardin, +/- 220 m2. Cette maison individuelle est idéalement située dans un quartier calme et résidentiel (rue de Luxembourg) sur un terrain de presque 10 ares. Dégageant beaucoup de potentiel, elle attend simplement qu'une famille lui redonne son éclat initial. Au rez de chaussée :un studio avec entrée individuelle, hall d'entrée, cuisine équipée, chambre, salle de douche, chaufferie/buanderie, garage pour 2 voitures. Au 1er étage : séjour avec feu ouvert et accès à la terrasse + jardin, cuisine équipée, débarras, 1 chambre et 1 bureau, wc séparé, salle de bains. Au grenier :combles aménagés avec 2 chambres, salle de douche et coin rangement. Terrasse, jardin clos. Disponibilité: immédiate
House for sale in SYREN 1F0RW
1 350 000
260 m²
4 Rooms
1
Belle maison libre de 3 côtés avec une surface habitable de +/-205 m2 comprenant : Au rez-de-chaussée : hall d'entrée, bureau, grand living avec feu ouvert ,menant à la terrasse at au jardin, cuisine équipée ouverte avec un débarras, 1 WC séparé, garage pour 2 voitures, 2 emplacements extérieurs. 1er étage : hall, 3 chambres dont 2 avec accès sur la terrasse de 30.35 m2, salle de bains, suite parentale avec dressing et salle de douche. 2ème étage : hall, buanderie et chaufferie, bureau. grenier. Maison très soignée. Vue dégagée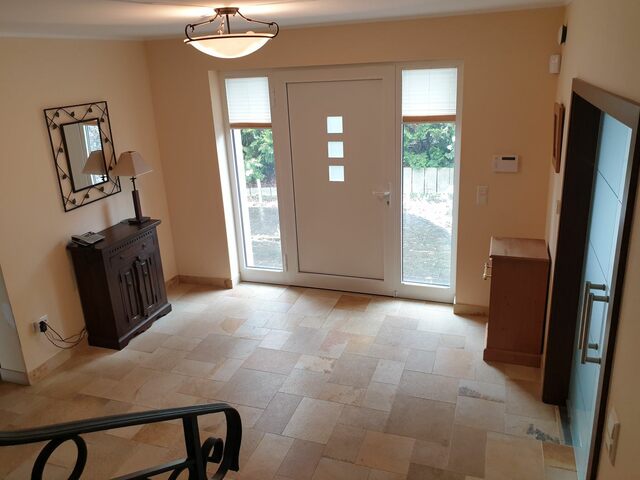 House for rent in WEILER-LA-TOUR 1EKDQ
A Weiler-la-Tour, dans une impasse, magnifique maison individuelle meublée (possibilité de louer sans les meubles) d'une superficie de 300m² habitables (+/-400m² utiles) sur une propriété de 7 ares. Ce bien se compose comme suit : - Au rez-de-chaussée : vaste hall d'entrée, cuisine entièrement équipée ouverte sur un spacieux living/salle à manger (avec cheminée) donnant accès à la terrasse de 40m² et au jardin exposé sud, espace vestiaire, WC séparé avec vasque, débarras, et deux garages avec portes motorisées. - Au 1er étage : hall de nuit, quatre chambres à coucher (dont une avec espace dressing et salle de bains en suite), et salle de bains. - Au 2ème étage : deux grandes chambres à coucher et salle de douche. - Au sous-sol : trois pièces à aménager selon ses envies, salle de douche, buanderie, espace chaufferie et cave. Deux emplacements de parkings devant les garages. Pour votre confort : double vitrage, chauffage au sol, volets électriques, revêtement de sol en pierre naturelle et parquet. Disponible pour le 1er mars 2021 ! Frais d'agence : 1 mois de loyer + 17% de TVA à charge du locataire. Disponibilité: 1er mars 2021

Suggested listings in proximity