Search area changed by moving map.
Waldbredimus
8

results match your criteria

Receive new ads as soon as they are published
Listings
at this marker:
x
TOP
Exclusiveness
House for sale in TRINTANGE 1HBNM
1 349 999
245 m²
4 Rooms
2
4
H.E.D. Invest vous propose une maison unifamiliale (nouvelle construction) en cours de termination à Trintange, sous-sol: -local technique 10,95m2 -débarras 10,15m2 -chambre/bureau/espace loisirs 57,59m2 rez-de-chaussée: -garage pour une voiture -hall d'entrée 14,95m2 -wc séparé 2.35m2 -séjour et cuisine (open space) 45,35m2 1ère étage: -hall 22,8 m2 -suite parentale (32,75m2) avec terrasse (21m2) -salle de bain 12m2 2ième étage: -hall 9,91m2 -salle de bain 5,42m2 -chambre 17,15m2 -chambre 13,68m2 -chambre 12,07m2 exterieur: - 3 emplacement - jardin divers: -pompe chaleur + panneau solaire + chauffage au sol -raffstore -fenêtre triple vitrage -video surveillance TVA récupérable! Prix: 1.349.999€ à disc en cas d'avoir des questions, n'hésitez pas de nous contactez
Apartment for sale in WALDBREDIMUS 1HV8M
705 000
95 m²
2 Rooms
1
3
INFO COVID-19 Les visites sont possibles sous les conditions suivantes : * 2 personnes max * port de masque et gants obligatoires Nous avons le plaisir de vous proposer ce magnifique appartement situé au 1er étage d'une petite résidence datant de 1980. Cet agréable appartement traversant d'une surface de +/- 110 m² se compose comme suit: Le hall d'entrée aborde un espace nuit composé d'une chambre, d'une salle de douche avec baignoire WC et buanderie privative ainsi d'une cuisine équipée et un WC séparée. Un grand living avec balcon donnant sur une deuxième chambre et un bureau à l'étage. Au sous-sol, un emplacement intérieur ainsi que 2 emplacements extérieurs, une cave complète l'offre. Informations supplémentaires: Appartement lumineux, agréable à vivre Environnement calme AFIL IMMO s'engage dans toutes vos démarches immobilières (estimation, vente, location de biens, recherche de financements). Vous satisfaire est notre priorité !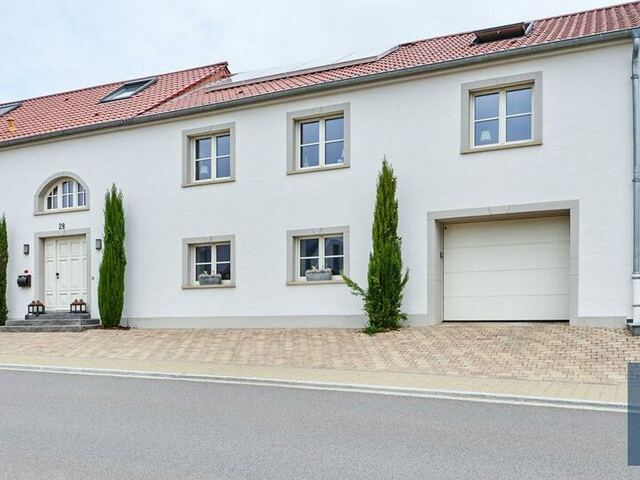 Farmhouse for rent in WALDBREDIMUS 1IBPJ
Nice farmhouse located in the village of Waldbredimus, near the Moselle river. Built in 1890 and completely renovated, the house opens on the first floor into a large foyer which leads on the left to separate toilets, to a first bedroom / TV room and to a large wellness / spa with sauna, first terrace, shower room and large fitness room. On the right: laundry room, heating room, storage and 1-car garage. The upper floor houses the day quarters: large living room - dining room with high ceilings embellished with a fireplace and large fully equipped kitchen opening to the second terrace. Behind the kitchen, the night hall leads to a walk-in closet and to the glazed bathroom with shower and tub. A separate studio with living room, shower room, kitchenette and mezzanine bedroom is located on the same level. Accessible by the staircase of the night hall, the top floor houses a very large master bedroom. Spacious and cosy, the house enjoys nice Burgundy stone floors and has been elegantly renovated. Please contact Christophe Muller on +352 691 20 19 19 for any further information or to schedule a showing. To view all our properties available for sale and for rent, please visit our website sothebysrealty.lu *The agency fee corresponding to one month rent without charges plus 17%VAT is charged to the lessee.
Apartment for sale in WALDBREDIMUS 1BWOS
L'agence Immofox a le plaisir de vous proposer à la vente un appartement situé dans une maison rénové. Il se compose comme suit: - Un hall d'entrée - Une cuisine équipée ouverte sur living avec accès sur un balcon de 8m2 - Un petit débarras - Deux chambres à coucher - Une salle de bain - Un WC séparé - Une cave Un emplacement vient s'ajouter à cet appartement ainsi qu'un petit jardinet privé Pour plus d'informations , n'hésitez pas à contacter le 621546066
House for sale in TRINTANGE 1HPDY
1 025 000
167 m²
4 Rooms
1
2
Foster est fier de vous présenter cette grande maison de 167 m² à Trintange Elle se compose: Au Rdc: Deux grands garages d'une surface total de 46 m², une buanderie et une chaufferie au mazout avec un réservoir de 3000l. Au premier étage: Une Cuisine séparée mais donnant directement sur un superbe living et salle à manger de 32 m² et un espace salon de 17,50 m². Une salle de douche spacieuse. Au deuxième étage: Une première grande chambre à coucher de 17,50 m², une deuxième chambre de 18,30m², une troisième chambre de 13m² et une quatrième chambre de 9,65 m² pouvant servir également de bureau Une grande salle de bain et un débarras Un jardin lumineux de 4,63 ares complète ce bien à visiter rapidement Disponibilité à convenir sur place N'hésitez pas à nous contacter, Sandra à votre service au +352 691 660 228 Venez découvrir nos biens en France et au Luxembourg
Individual house for sale in WALDBREDIMUS 1GXYY
1 150 000
186 m²
4 Rooms
2
2
SOUS COMPROMIS !! IMMO EXCELLENCE vous propose en exclusivité cette maison d'une surface habitable d'environ 186 m2 sur un terrain de 09.30 ares. La surface utile est de 341 m2. La maison est libre des quatre côtés. La maison se compose comme suit : Au rez-de-chaussée vous trouvez : Un spacieux hall ( 19.79 m2 ), une chambre-à-coucher ( 13.66 m2 ), une deuxième chambre-à-coucher ( 12.51 m2 ), une troisième chambre-à-coucher ( 17.10 m2 ), une salle-de-douche ( 6.17 m2 ), une cuisine équipée ( 13.82 m2 ) avec accès sur une terrasse ( 46.04 m2 ), un double séjour ( 39.35 m2 ) ainsi qu'un bureau ( 4.75 m2 ). Au sous-sol vous trouvez : Un hall d'escalier ( 3.56 m2 ), une salle-de-douche ( 5.31 m2 ), un hall ( 5.25 m2 ), un deuxième hall ( 6.38 m2 ), une salle-de-fitness sinon quatrième chambre-à-coucher ( 24.03 m2 ), une chaufferie ( 8.39 m2 ), une buanderie ( 15.51 m2 ), une pièce supplémentaire ayant servi à l'époque comme deuxième cuisine, ainsi qu'un grand garage ( 44,67 m2 ). Au dernier étage vous trouvez : Un tour d'escalier vers le grenier ( 2.93 m2 ), un grenier aménageable ( 79.76 m2 ). A l'extérieur vous trouvez encore une deuxième terrasse d'une surface de 17.79 m2 et située à côté de l'entrée vers la maison, ainsi que deux emplacements d'une surface de 31.01 m2. Maison avec beaucoup de potentiel. Situation très calme et proche de toutes commodités. Waldbredimus est une localité luxembourgeoise et une commune portant le même nom situées dans le canton de Remich. Waldbredimus se situe à 25 minutes du centre-ville de Luxembourg. Disponibilité: à convenir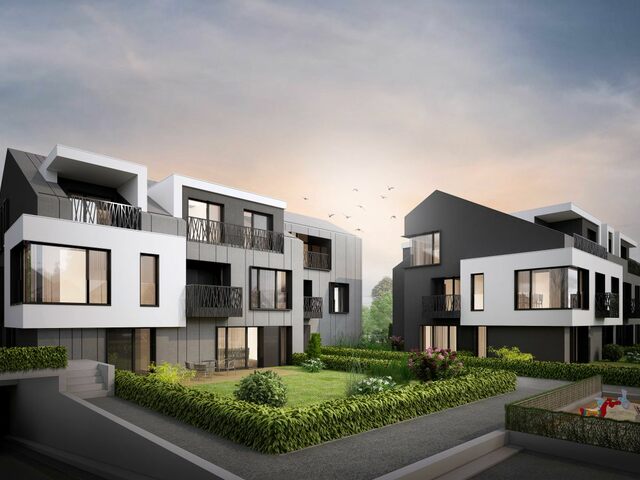 Residence for sale in ERSANGE 11SZD
Située dans le canton de Remich, Ersange se trouve à moins de 15 km au Sud-Est de Luxembourg-ville. Dans un environnement encore peu densifié et privilégié, venez découvrir nos deux résidences intimistes de 8 et 10 appartements, bordées de verdure et avec vue sur la forêt. Du studio à l'appartement composé de 3 chambres, quel que soit votre mode de vie, ce programme immobilier comblera vos attentes en matière d'espaces. Et pour profiter du cadre verdoyant, tous les logements se prolongent d'un espace de plein air privatif : balcons, loggias, terrasses ou jardins. Vous bénéficiez également de parkings et de caves en sous-sol. Superficies entre 43,72 m² à 118,90 m². Pour plus d'informations contactez directement notre consultant immobilier Mme Sabrina FURINI au 691 112 110 ou sabrina.furini@tracol.lu Disponibilité: 2022
Exclusiveness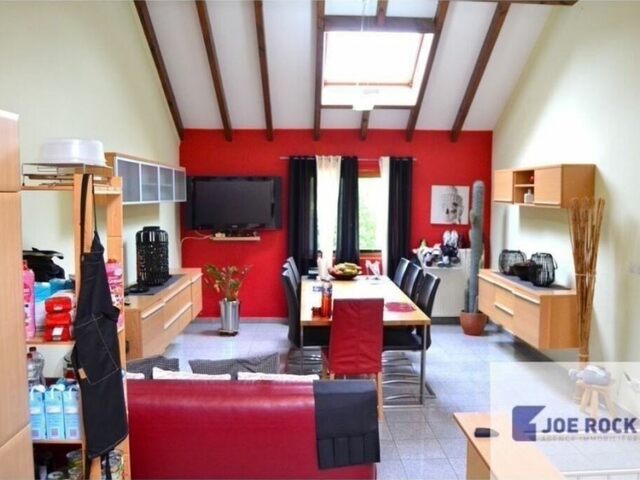 Terraced house for sale in TRINTANGE 1G0BA
L'agence immobilière JOE ROCK, vous propose en exclusivité cette magnifique maison mitoyenne à Trintange! Laissez-vous séduire par cette belle maison. L'objet est bien situé à proximité de l'école primaire et des commerces. - Hall d'entrée - Cuisine équipée ouverte - Salle à manger - Trois chambres à coucher - Salle de douches - WC séparé - Deux emplacements extérieurs - Commerce indépendant de +- 30m2 A découvrir le plus vite que possible ! Pas de frais a prévoir. L'ESTIMATION de votre bien immobilier est gratuite ! Contactez-moi, au plus vite! Monsieur Christian Berchem Tél: 691 115 229 Email: berchem@agencerock.lu Aucune garantie n'est assumée liée à l'exactitude et à l'exhaustivité.Commission d'entremise de 3,51 % à charge du vendeur.

Suggested listings in proximity