Semi-detached house in koerich
Search area changed by moving map.
Semi-detached house in koerich
8

results match your criteria

Receive new ads as soon as they are published
Listings
at this marker:
x
TOP
Exclusiveness
Small farmhouse for rent in GOETZINGEN 1H5GS
Nichée dans la nature et la verdure...le paradis sur terre pour tous les amateurs de nature, plantes, jardins ;-)) Et non seulement le jardin va vous inspirer, mais sa vie intérieure est aussi des plus raffinées, car la maison fut récemment entièrement rénovée avec beaucoup de goût. La surface habitable totale s'étend sur +/- 150 m2 et vous offre suffisamment d'espace pour vous installer confortablement et d'y profiter pleinement de votre vie. La partie living-salle à manger est très spacieuse, et grâce aux sols et murs clairs et la multitude de fenêtres, toutes les pièces sont inondées de lumière. La cuisine équipée moderne vient d'être installée et vous offre tout ce dont vous avez besoin pour créer des bons plats. Au premier étage, vous disposez de trois chambres à coucher tant spacieuses que lumineuses, ainsi que de deux salles de bains particulièrement bien équipées - douche ou baignoire - la question ne se pose définitivement pas ici, il y en a pour tous les goûts. Une quatrième chambre se trouve au rez-de-chaussée, chacun devrait sans doute trouver sa place ici. En outre, le vaste grenier au deuxième étage ainsi que les caves voûtées au sous-sol vous offrent de l'espace à gogo pour tous vos rangements. Garage pour deux voitures, parkings à l'extérieur, vaste jardin (côté latéral et derrière la maison).. qu'est-ce qu'il vous faut de plus pour venir visiter cette superbe demeure? Disponible immédiatement. Veuillez également consulter notre site www.ihome.lu pour des renseignements complémentaires.
TOP
House for sale in KOERICH 1FYRB
1 565 646
215 m²
4 Rooms
1
2
Nouvelle construction d'une maison 4 façades avec une vue imprenable et située au calme. La maison comprend 4 chambres à coucher et 2 sdb, dont une suite parentale avec dressing et sdb privée, une buanderie, un living avec cuisine ouverte de 59,31 m2, un WC séparé, des caves, un double garage, deux terrasses de 16,20 m2 et de 31,57 m2, une piscine et un jardin. Terrain de 4a46ca. Disponibilité: à convenir Énergie : GES (Gaz à effet de serre) - B
FIRST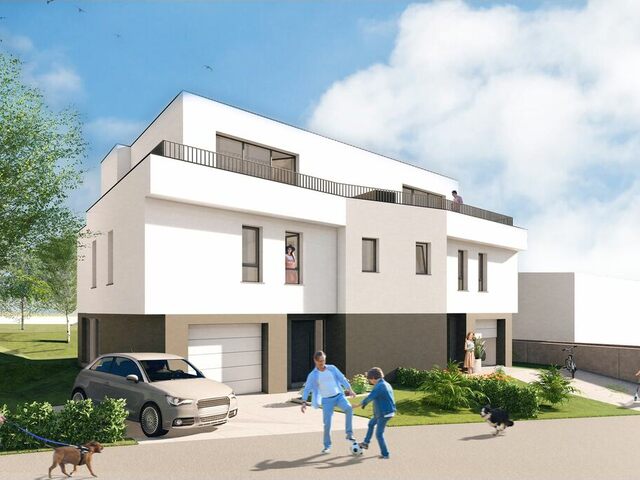 Semi-detached house for sale in KOERICH 16WID
1 323 400
356.63 m²
4 Rooms
2
1
Koerich - Semi-detached house Lot 2 5min from Capellen Only a few steps from the famous Chateau de Koerich, surrounded by beautiful nature, we are exclusively presenting our two semi-detached houses. This semi-detached house will be build on a plot of 2,92 ares. It has a total surface of 356,63 m2 and a living space of 217.13 m2 (without cellar, without garage, with 1/3 of the terraces). The house contains: Basement: Laundry room, a machine room, cellar and a fitness room. Ground floor: A garage for one cars. Entrance hall with a staircase with a separated toilet, a kitchen, a big living room with a direct access to the back patio and the garden. First floor: 1 master bedroom with a private bathroom and a dressing. 2 bedrooms rooms, sharing one bathroom. Second floor: An open space with the possibility of creating further bedrooms and access to 2 terraces. - The estate is sold with a turnkey building contract. - VEFA(Sales of Properties in Future State of Completion) contract. - Prices are announced with 3% VAT included. - Opportunity to make individual changes to the plans in accordance with technical possibilities. Koerich is very much beloved by local residents, as it offers privacy and tranquility to its citizen, at the same time Koerich is situated very close to the city center of Luxembourg, it takes precisely 17 minutes by car to arrive to the heart of the city. The A6 highway entrance is only in 5 minutes away from the houses. Any outdoor activity brings nothing but pleasure, letting you contemplate it's beautiful nature while jogging, cycling, walking with a dog, or even with a horse. The social infrastructure of Koerich and villages around have everything to let its residents enjoy their living in this area. The commune of Koerich offers: - A modern KINDERGARTEN , - An ELEMENTARY SCHOOL for children - A BAKERY - 10 RESTAURANTS with all types of cuisine - A big supermarket in Windhof ( 3 min by car ) - A GAS STATON and CAR WASH in Windhof ( 3 min by car ) - An immense GYM in Windhof ( 3 min by car ) - Martial arts school "Fighting club Luxembourg " in Windhof ( 3 min by car ) - The European High and Elementary School is 10 km far from Koerich - Public hospital in the village of Steinfort ( 5 min by car ) - Belgian border ( 10min by car )
Semi-detached house for sale in KOERICH 16WQM
1 323 400
220.17 m²
4 Rooms
2
1
Lot 2 semi-detached house, Koerich, rue du Bois_ Construction of a semi-detached/terraced house with a living space of approximately (lot 1) 220 m² and (lot 3) 237 m². The construction site with its' two plots with the sizes of (lot 2) 2,92 ares and (lot3) 3,10 ares are situated in a quiet side-street of Koerich. In the basement there are a big room (cave 1) which could for example be transformed into a fitness-/hobby-room, the technic-room and the installation-room with the utility area. The ground floor includes the entrance hall, the wardrobe, a WC, the open kitchen as well as the living and dining room with direct access to the terrace/garden. A garage with access from the entrance hall is partially included in the volume of the ground floor. An additional outside parking lot is located besides the house. 3 (lot 2) or 4(lot 3) bedrooms are planned on the first floor, including the parent bedroom with its own bathroom and dressing room, and another shower. The second floor/storey is designed as generous leisure room with access to the 2 rooftop terraces. In case of redesigning of the storey, this space could for instance be transformed into 2 bedrooms with a bathroom. Passive house design (A-A-A) Air / water heat pump with underfloor heating system Turnkey construction including wallpapering and painting works All our houses will be certified by a notary contract. A completion guarantee from a Luxembourgish bank is included in the fixed price.
House for sale in GOETZINGEN 1HCCY
1 340 000
250 m²
4 Rooms
2
2
+++ VENTE DIRECTE CONSTRUCTEUR +++ A SAISIR, superbe future construction sur une parcelle plein sud dans un environnement calme proche des commerces, écoles, et axes routiers principaux. Autorisation de bâtir en cours, modifications des plans encore possible. Matériaux de 1er choix, également adaptables suivant vos souhaits et envies. Combles aménagés dans le prix. Citerne eau de pluie 10.000 litres, panneaux solaires eau chaude, ... Classe énergétique AAA Documentation sur simple demande. TVA 3% incluse sous réserve de l'accord de l'Enregistrement. Disponibilité: à convenir Énergie : GES (Gaz à effet de serre) - A
House for sale in KOERICH 1HAWP
1 250 000
154 m²
4 Rooms
2
3
L'agence immobilière IMMOFECC vous propose cette superbe maison libre de 4 côtés de 154m2 situé dans une cité calme de la commune de Koerich, qui se compose comme suit : Rez-de-chaussée : - 1 hall d'entrée, - 1 cuisine équipée ouverte avec accès sur une grande terrasse et le jardin sans vis-à-vis, - 1 grand living avec poêle à bois, - 1 salle à manger, - 1 chambre, - 1 salle de douche, 1er étage : - 3 belles chambres à coucher, - 1 salle de bain avec douche et baignoire, Sous-Sol : Garage 2 voitures, buanderie, cave et chaufferie. Description de la situation : Koerich est situé à 15 minutes de LUXEMBOURG, la maison se situe à proximité de toutes les commodités (bus, commerces, etc…). Pour tout complément d'information ou pour obtenir de la documentation détaillée, n'hésitez pas à nous contactez par téléphone à ce numéro : 26 37 90 45. Nós falamos o português. AVERTISSEMENT ! Nous sommes dans l'impossibilité de vous garantir la visite d'un bien, si la ponctualité d'un rdv n'est pas respectée. Merci de votre compréhension. Proposition de crédit/financement à taux compétitif d'une banque luxembourgeoise inclus dans nos services gratuits et complets, laisser nous négocier votre demande de crédit aux meilleurs taux. Nous sommes également disponibles pour organiser les visites le samedi ! Nous recherchons en permanence pour la vente et pour la location : des appartements, des maisons et des terrains à bâtir. N'hésitez pas à nous contacter si vous souhaitez vendre votre bien, nous vous ferons une estimation gratuitement.
Exclusiveness
House for sale in KOERICH 1GTPJ
Spécialiste de l'immobilier au Luxembourg, l'agence idemmo de Belval, vous présente en exclusivité, cette magnifique maison de 120 m2 habitables. Elle se situe dans une zone calme de Koerich, proche des centres d'intérêts (arrêts de bus, école et autoroute). Cette maison est très spacieuse, et agencée agréablement. Devant la maison, nous avons 4 emplacements de parking privatifs. Chauffage au gaz, double vitrage, façade neuve et finitions intérieures impeccables. Elle se compose comme suit: Rez-de-jardin - Hall d'entrée - Living - Salle à manger - Cuisine avec accès terrasse et jardin - Bureau - WC 1er étage - Hall de nuit - Salle de douche avec meuble double vasque, WC et fenêtre - 2 chambres spacieuses Extérieurs - 4 Parkings - Jardin pelousé + potager - Terrasse couverte avec barbecue intégré - 1 remise - 1 Cave - Local technique A cela s'ajoute un grenier aménageable en 3ème chambre. Les frais d'intermédiation s'élèvent à 3% et sont à charge du vendeur. Disponibilité: à convenir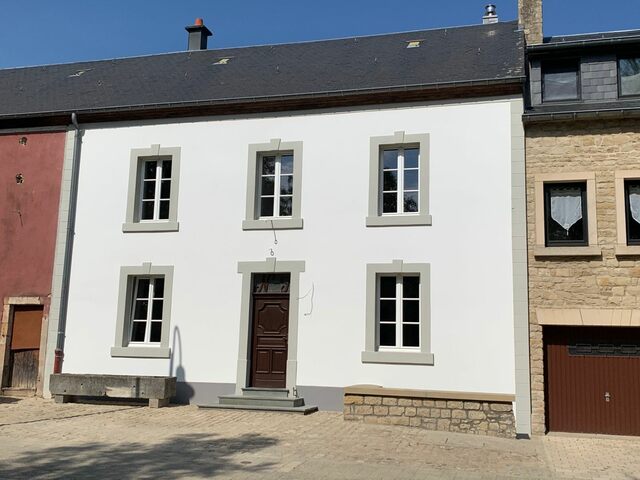 House for rent in KOERICH 1A8LA
TRES BELLE MAISON MITOYENNE, ENTIEREMENT RENOVEE EN 2020 Maison construite de façon traditionnelle, murs en pierres naturelles, dalles de béton au rdch, et achevée / rénovée en 2020, sur son terrain de +/- 2 ares. Cette belle maison agréable à vivre se résume comme suit : RCH : hall d'entrée, cuisine entièrement équipée, living, chambre/bureau, salle de bains ( douche italienne, baignoire, lavabo et wc) buanderie avec accès extérieur vers terrasse de 35m2 et coin potager/jardin. Au 1er étage: Vaste hall en mezzanine, sdd (cabine de douche, wc, lavabo), 3 chambres à coucher, dont 2 communicantes . Les sols sont revêtus d'un magnifique plancher en bois traité. Dalles en bois entre le rdch et l'étage, isolée avec des matérieux naturels d'excellente qualité. Grenier non aménagé, offrant un grand espace ouvert pour rangement, et abritant la chaufferie (chauffage au gaz à condensation) A l'extérieur: 3 emplacements privatifs Au sous-sol: magnifique cave (cave à vin) voutée La rénovation de cette belle maison, a été faite dans les régles de l'art, alliant ancien et moderne, le résultat est magnifique. - La maison est libre de suite. - Garantie locative demandée de 6000.- Pour de plus amples renseignements/visites, n'hésitez pas à nous contacter. Disponibilité: immédiate
Send an inquiry to real estate agents having property that matches your criteria.

Suggested listings in proximity