Search area changed by moving map.
Sale house hosingen
5

results match your criteria

Receive new ads as soon as they are published
Listings
at this marker:
x
TOP
House for sale in HOSINGEN 1JAXA
748 774
135 m²
4 Rooms
1
2
Cette charmante maison des années 1940 se situe sur un terrain de 3,59 ares dans la ville de Hosingen et est disponible à l'acte notarié! Avec un total en surface utile d'environ 175 m2, sa surface habitable se situe aux alentours  de 132 m2, terrasse (25 m2) exclue. Composé de 4 chambres à coucher, ce bien se compose comme suit: Au RDC : Les 2 entrées avec leur hall d'entrée respectif La cuisine équipée avec espace salle à manger Le jardin arboré Le séjour Au sous-sol : Le local technique La buanderie Un espace kitchenette Au premier étage : 3 chambres à coucher La cage d'escalier Le palier de nuit Au 2ième étage : Le grenier Une chambre à coucher Le palier de nuit avec espace de rangement Viennent s'ajouter à cela: La chaudière sous contrat d'entretien Un espace de jardin côté rue Plus d'infos au 288393-22 ou par mail à agence@apoidea.com.
TOP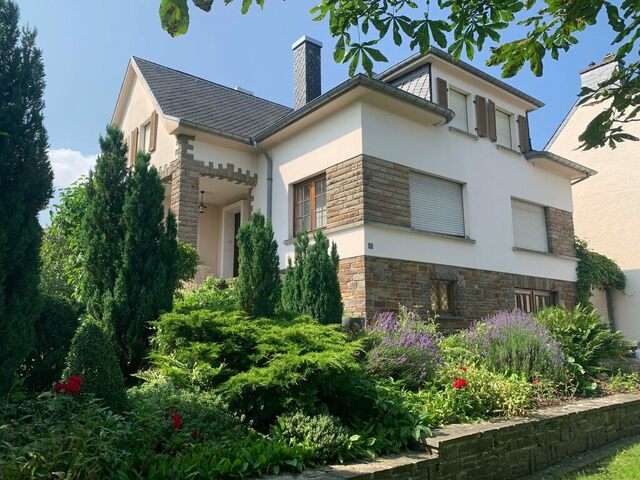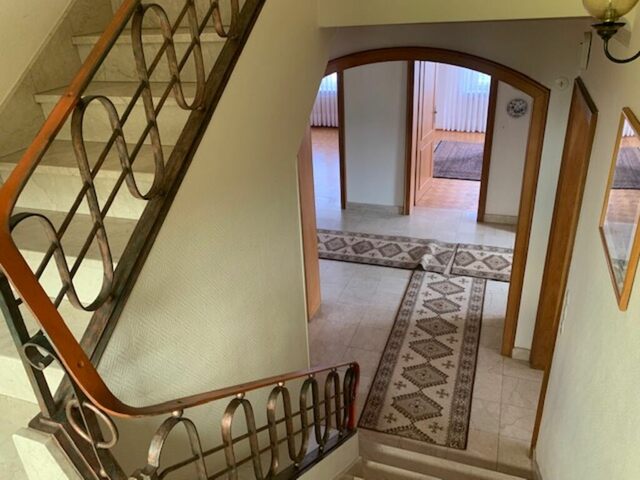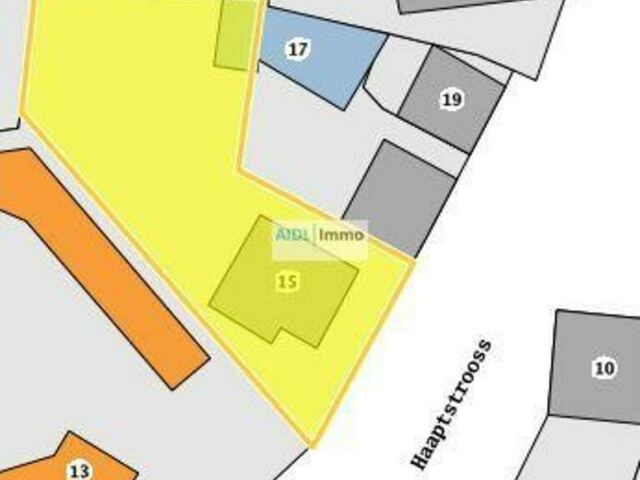 Individual house for sale in HOSINGEN 1K73D
865 000
200 m²
5 Rooms
3
4
*** EXCLUSIVE SALE *** For all information, please call 621 43 77 64 Beautiful charming single-family house, not attached, with side access to the plot of 9a25ca for sale in Hosingen L-9806 15, Haaptstrooss Price: € 865,000 Available immediately The house, built in the 60s, is in a well-kept general condition. It can be used in its current state with some renovation work. The construction has 2 floors, an attic and a cellar. The ground floor (90.51m2) comprises the following rooms: large bright entrance hall, lounge / living room, dining room, spacious separate equipped kitchen, study / bedroom, shower room with sink and toilet. On the upper floor (83.51m2) there is a hall, a toilet with a washbasin, 3 bedrooms with a washbasin each and 2 attic rooms . Above the upper floor there is an attic, ideal as a storage space. The basement (96.54m2) consists of a hall, a garage, a boiler room, a large laundry room, a room that can be used as a bedroom and a shower room with toilet. The house consists of 4 free facades, a wooden roof truss with slate roofing and the windows are made of double-glazed wood. The heating and hot water system is oil-fired with a low-temperature boiler from 1993. The property also includes several outdoor parking spaces, a covered garden terrace, a large landscaped garden around the house, a large brick garden house with electricity and a greenhouse.
Villa for sale in HOSINGEN 1GO8Y
1 550 000
619 m²
7 Rooms
4
3
BABACIC Mirza (tél.: +352 691 670 872) et RE/MAX specialiste de l'immobilier vous propose : Cette jolie maison dans un quartier résidentiel de la ville de Hosingen, paisible et verdoyant, libre de 4 côtés, pleine de charme en phase finale de sa construction, sur un terrain de 6 ares, d'une surface habitable d'environ 400 m2 et d'une surface totale d'environ 619 m2. Construite sur 2 étages et un grenier aménageable, elle se compose comme suit: - au total 7 grandes chambres, 2 salons et 2 cuisines ouvertes - 4 salles de bains - 1 WC séparée - 1 commerce - 1 logement intégré d'environ 112 m2 - 1 grand jardin - 1 grand garage - 2 emplacements extérieurs - panneaux solaires Possibilité de louer le logement intégré. - Triple vitrage, stores électriques, parlophone - Finition de haute qualité sont prévu - Chauffage au gaz - Disponibilité: printemps 2021 Vous trouvez ce bien intéressant, vous souhaitez obtenir plus d'informations ? Ou vous envisagez vous-même de vendre ou faire estimer votre bien et bénéficier de l'accompagnement d'un professionnel RE/MAX ? Veuillez me contacter. 3% du prix de vente à la charge de la partie venderesse + TVA (*Prix susceptible d'évoluer en fonction des différentes prestations complémentaires proposées au client) Pas de frais pour le futur acquéreur. Mirza BABACIC mirza.babatic@remax.lu +352 691 670 872
House for sale in HOSINGEN 1JYVM
IMMO SL vous propose cette maison, rénovée en 2018-2019, dans la commune de Hosingen sur un terrain de 2a10ca. Elle se compose comme suit: Au Rez-de-chaussée : - hall d'entrée - débarras ,buanderie - salle à manger ouvert,salon avec cheminée - cuisine équipée Au 1er étage : - 2 chambres - WC avec douche Au 2e étage : -suite parentale avec dressing Jardin Terrasse Chauffage à mazout Triple vitrage Façade isolée en 2019 Toiture de 2019 Libre à convenir.
Semi-detached house for sale in HOSINGEN 1JMRY
629 000
160 m²
4 Rooms
2
3
NOUVELLE CONSTRUCTION à Hosingen!!!!!!!!!!! Maison en gros oeuvre à Hosingen ,classe énergétique A-B sur un terrain de /-2,75 ares, libre de trois cotés se composant de ; au rez-de-chaussée -un garage pour deux voitures -un hall d'entrée -un wc -une pièce technique -buanderie/cave -un séjour salle à manger et cuisine avec sortie sur terrasse/jardin, bureau. au 1er étage -un hall de nuit -Quatre chambres à coucher, -une salle de bains Pour plus de renseignements ou une visite (visites également possibles le samedi sur rdv), veuillez contacter le 691 850 805.
Send an inquiry to real estate agents having property that matches your criteria.

Suggested listings in proximity