Office 5 rooms
10

results match your criteria

Receive new ads as soon as they are published
FIRST
Exclusiveness
Office for rent in LUXEMBOURG-DOMMELDANGE NK5Q
Spacieux bureaux de 127 m2 avec parkings gratuits dans un immeuble de standing à côté de l'hôtel 'Double Tree'. Les bureaux se trouvent dans un grand appartement au 16e étage avec ascenseur dans un immeuble de bureaux. En outre des 5 bureaux individuels lumineux de 32,44m2 / 11,16m2 / 12,08m2 / 11,38m2 / 19,77m2, vous y trouverez une cuisine équipée, une salle de bains avec WC, une salle de douche avec WC, ainsi que plusieurs balcons d'une superficie de 33,44 m2 ainsi qu'une cave. Des parkings sont disponibles gratuitement à côté de l'immeuble avec un arrêt de bus à proximité. Disponibilité immédiate. Disponibilité: Immédiate
Office for sale in AMAY (BE) 1FF5Q
399 000
258 m²
5 Parts
2
6
Sorry, there is no English translation. Initialement exploité comme habitation et centre médical pluridisciplinaire, cette imposante villa 4 façades bâtie sur une superficie au sol d'environ 250 m² se compose comme suit: Au rez-de-chaussée: spacieux hall d'entrée, un lumineux séjour d'environ 30 m², un bureau, deux chambres chambre, une salle-de-bain, une buanderie, une salle-à-manger et une cuisine hyper équipée (taques, four, grill, micro-ondes, frigo, trancheuse, hotte,...). A l'étage, mezzanine de 35 m², une salle-de-bain et 2 chambres (possibilité 5) et un bureau. Au sol-sol; un cabinet d'environ 100 m² ( une salle-d'attente, un bureau, un espace piscine, une cave à vin et un imposant garage 3 à 4 voitures. A l'extérieur: entréeindépendante pour la partie professionnelle, une terrasse exposée plein sud avec barbecue et la possibilité d'acquérir un spacieux jardin arboré ( en supplément - prix à convenir). Caractéristiques techniques: Chauffage central mazout, châssis en bois double vitrage, porte de garage électrique, système d'alarme, compteurs électriques séparés (partie professionnelle et partie habitation). Idéal pour combiner votre projet professionnel et votre vie privée! Prix: Faire offre à partir de 399.000€ (offre soumise à l'acceptation du propriétaire). A visiter sans tarder !! www.immo-bertrand.be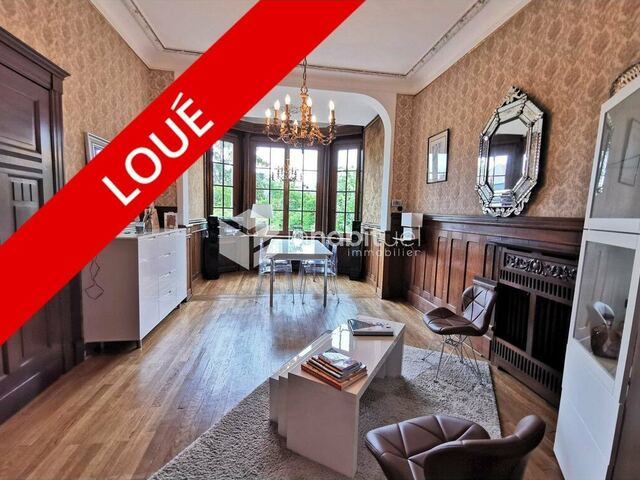 Office for rent in DIFFERDANGE 17O6W
DESTINATION: FAMILY HOME, LIBERAL PROFESSION OR OFFICES INHABITUEL IMMOBILIER presents a magnificent mansion from 1900, completely renovated, located in the heart of Differdange. Carefully renovated, this charming house has kept its original character in the heart of a rapidly expanding town. The city Differdange is the 3rd largest municipality in Luxembourg and continues to modernize. The house is ideally located less than 5 minutes walk from shops, schools (primary, secondary, international school), a few steps from shops, sports center, and 7 minutes walk from the station. The town hall and the new Opkorn shopping center are also a short walk away. With these large spaces and the many possibilities of parking, the house also has all the assets for a liberal profession and / or offices. This magnificent house is composed as follows: Ground floor: - Spacious reception hall - Fully equipped independent kitchen with access to a terrace and to the garden - Living room - Dining room - Spacious office - separate WC 1st floor: - Spacious night hall - 3 large bedrooms - Shower room with bath and walk-in shower - separate WC 2nd Floor: - Night hall with skylight - 2 Bedrooms - Shower room with shower and WC - Access to the attic In all, 260 m2 of useful surface (excluding basement). In the basement : - Large cellar with access to the garden - Technical and provisional rooms, including wine cellar Exterior: - 3 terraces at different levels - Garden of 540 m2 - Indoor and secure pitches that can accommodate 3 to 6 cars - Play area (petanque track, etc.) More info on www.inhabituel.lu
Exclusiveness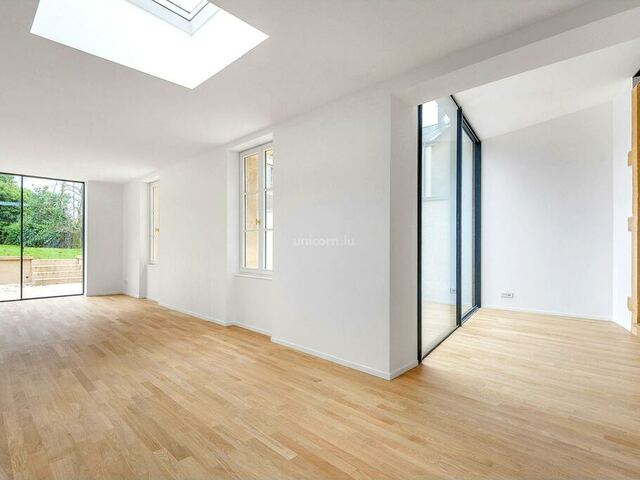 Office for sale in LUXEMBOURG-LIMPERTSBERG 1DNBM
2 750 000
298 m²
5 Parts
3
3
FOR SALE - Refurbished mansion in Luxembourg-Limpertsberg Located in the south of Limpertsberg, this pretty mansion close to the City-Center offers 298 sqm of living space. Entirely refurbished taste while keeping the charm of the old, this house offers : - On the ground floor : a large living room with veranda giving access to the terrace and garden. - On the first and second floor : 5 bedrooms. It is possible to arrange some bathrooms in boths of the floors have conections required. The high-quality finishes (white greek marble, solid wood) confer to this property a one of a kind cachet. For any further information, contact us at 26 54 17 17. This property is also available on : www.loft.lu
Office for sale in MICHEROUX (BE) 1F8AN
159 000
235 m²
5 Parts
1
2
Découvrez cette maison de commerce, idéalement située à Micheroux, vous offrant de nombreuses possibilités d'aménagement. En bon état géneral, ce bien affecté dernièrement en bureaux, peut être transformé aisément en maison d'habitation ou immeuble à appartements (sous réserve des accords urbanistiques). Rez-de-chaussée : surface commerciale de 83 m², bureau de 22 m², toilettes indépendantes, seconde entrée arrière, jardin. 1er étage : entrée indépendante par escalier extérieur, trois bureaux (28, 20 et 18 m²), pièce cuisine ou salle de bains, toilette indépendante. 2ème étage : deux bureaux (19 et 12 m²). Divers : surface habitable : 235 m², électricité en conformité, double vitrage en bois et PVC, convecteurs au gaz de ville, R.C. : 919€, parking public à proximité. BELLE OPPORTUNITE ! Plus d'infos et plans téléchargeables sur www.wolfs.be !
Office for rent in LIÈGE (BE) 1F358
Dans un splendide hôtel de Maître situé au coeur de Liège, ce plateau de bureau au 1er étage offre caractère et confort. Sur +/- 180 m², vous disposez d'un bureau d'accueil, d'un hall central, de 4 bureaux, de sanitaires, d'une cuisine et d'un local technique. Précédemment occupé par deux banques privées, la surface convient pour tous types de bureaux et activités Disponible de suite. Possibilités de location de parking à proximité.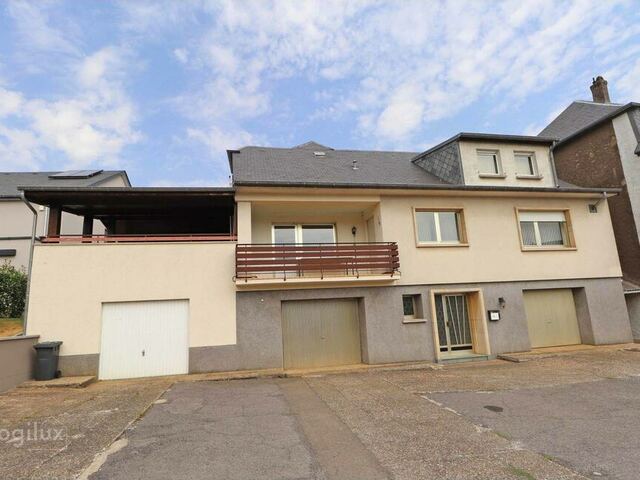 Office for rent in CLEMENCY 19G9S
Bureaux situés dans une maison au coeur de Clémency, la maison se compose: - au rdc : hall d'entrée de 20 m² avec accès au garage et à l'étage. - au 1er : dégagement avec accès sur 2 pièces(34,50 m² et 20,30 m²), une cuisine équipée spacieuse, un débarras de 6,90 m² et une grande sdb. - accès par le 1er étage à un balcon et une immense terrasse couverte. - au 2ème : 3 pièces (30 m², 14,80 m² et 11,30 m² ), une sdd - accès au 2ème étage à des greniers pour rangement. Disponibilité: A convenir Autres : Débarras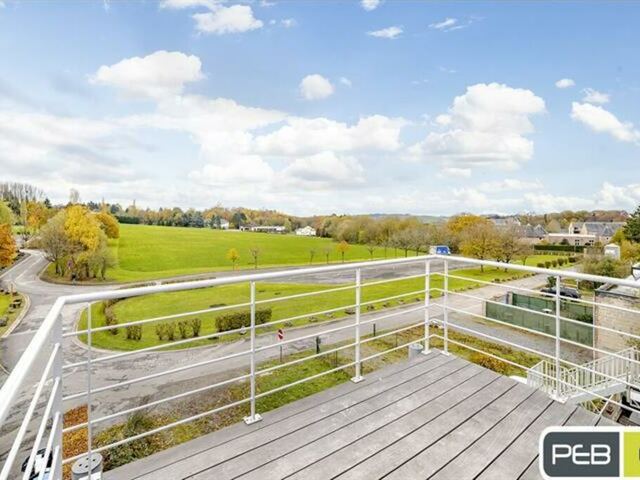 Office for sale in LOUVEIGNÉ (BE) 11ZBR
695 000
400 m²
5 Parts
4
3
Avis aux investisseurs ! Nous vous proposons cet immeuble de rapport, entièrement remis à neuf, composé de 4 apparts et d'un rez commercial. Parfaitement situé en plein centre de Banneux, ce bien vous propose une excellente rentabilité, des matériaux et finitions de haute qualité ainsi que des consommations énergétiques maitrisées. Ss-sol : caves privatives, buand. pour l'appart. 1, w-c du rez commercial. Rez : hall d'entrée commun, emplac. de parking à l'arrière, rez commercial de +/- 40 m², Appart. 1 : hall d'entrée, wc, living avec cuis. équ. ouverte, 1 ch., sdd, balcon. 1er : hall commun, Appart. 2 : hall d'entrée, wc, living avec cuis. équ. ouverte, 1 ch., sdd, balcon. Appart. 3 (duplex) : hall d'entrée, wc, living avec cuis. équ. ouverte, balcon. 2ème : appart. 3 (duplex) : 2 ch., buand., sdd. Appart. 4 : hall d'entrée, wc, living avec cuis. équ. ouverte, 1 ch., sdd, balcon. Divers : R.C. : +/- 2.800 €, vendu sous régime de l'enregistrement, rentabilité mensuelle approximative prévue : 3.300 €, compt. électr. et eaux indép., pompe à chaleur individuelle par appart., TV PVC, immeuble entièrement carrelé et jamais occupé, béton entre les différents niveaux, matériaux complètement neufs. Les photos publiées sont celles de l'appartement 4, les photos du reste de l'immeuble seront publiées sous peu. Infos énerg. : PEB No. : 20151030006062, PEB : C, E spec : 180 kWh/m².an, E totale : 28368 kWh/an. A DECOUVRIR SANS TARDER !
Send an inquiry to real estate agents having property that matches your criteria.

Suggested listings in proximity