Search area changed by moving map.
Lenningen
8

results match your criteria

Receive new ads as soon as they are published
Listings
at this marker:
x
FIRST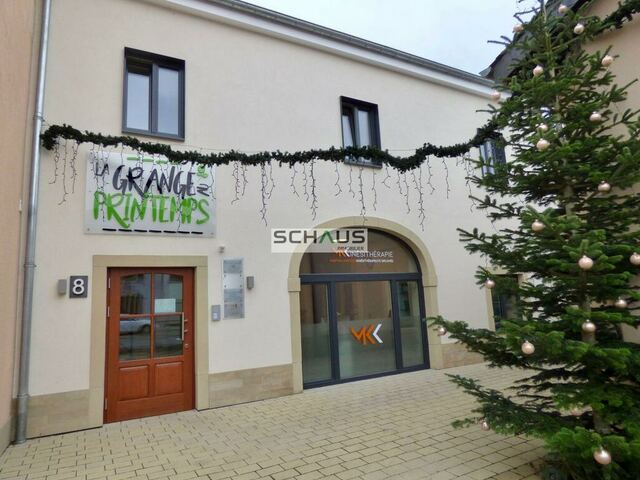 Business premises for rent in CANACH 1CXGV
Schaus Immobilier propose à la location dans la « Grange au Printemps », Centre de Wellbeing & More à Canach Une salle au salle étage de la grange, dans un état strictement neuf d'une surface d'environ 14,00m2 équipée d'un lavabo. Une réception avec salle d'attente, une cuisine équipée et aménagée et des sanitaires avec WC en commun complètent l'offre. Un parking pour les clients se trouve devant l'immeuble. L'espace est entièrement rénové et depuis mars 2019, un kinésithérapeute, un psychologue, un prestataire de massages ayurvéda et un magasin pour des articles de dance y sont implantés. Nous sommes à votre disposition pour tout renseignement complémentaire. Les honoraires de négociation sont à la charge du locataire et s'élèvent à un loyer augmenté de la TVA en vigueur. Disponibilité: immédiate
Exclusiveness
Mansion for sale in LENNINGEN 1I1B7
1 449 000
264 m²
5 Rooms
3
Eduardo VIEIRA / +352 691 683 703 / eduardo.vieira@remax.lu RE / MAX, real estate specialist in Lenningen, presents this sublime mansion from 1900, completely renovated in 2009 and 2021 with quality materials, on a plot of 4.43 acres. It has an area of 264.71 m2 of living space and +/- 377.37 m2 in total. You will be seduced by this beautiful house overlooking the fields ideal for people who love nature and tranquility. The house is made up on the ground floor: an entrance hall, a bright living room / dining room of 34 m² with a summer living room of 14 m2 giving access to the first terrace of 14 m2 facing West, an office of 20 m2 (which can be converted into a bedroom), a beautiful independent fitted kitchen of 15 m2, a separate toilet. On the 1st floor: a night hall, a master bedroom of 27 m2, a first bedroom of 20 m2, a second bedroom of 16 m2 giving access to the terrace overlooking the fields of 19 m2, shower room complete with WC, storage room. On the 2nd floor: a large room newly created in 2021 of 71.41 m2. Space that can be used as a recreation room or bedrooms, etc ... In the basement: a first large vaulted cellar of 42 m2, a second vaulted cellar of 32 m2, a technical room, a laundry room of 10 m2, a small shower room, a storage room. Outside: a large courtyard of around 180 m2 behind the west-facing house, with a large carport for two or three vehicles. Possibility of creating a garden part. Additional features: double glazing, oil heating, Buderus boiler with new engine, equipment for the camera system included (remains to be fitted by a professional), optical fiber, pre-installation of connection for electric car under the carport. Recent renovations: All the rooms were repainted at the start of 2021, the attic was completely fitted out in 2021 with high-end insulation etc ... Availability to be agreed. Energy passport in progress. Lenningen, the Luxembourg municipality located in the canton of Remich., Is located near the city of Luxembourg and for golf enthusiasts you are in less than 5 minutes on the "Green" to practice. The agency commission is included in the sale price and is the responsibility of the sellers. Eduardo VIEIRA +352 691 683 703 or eduardo.vieira@remax.lu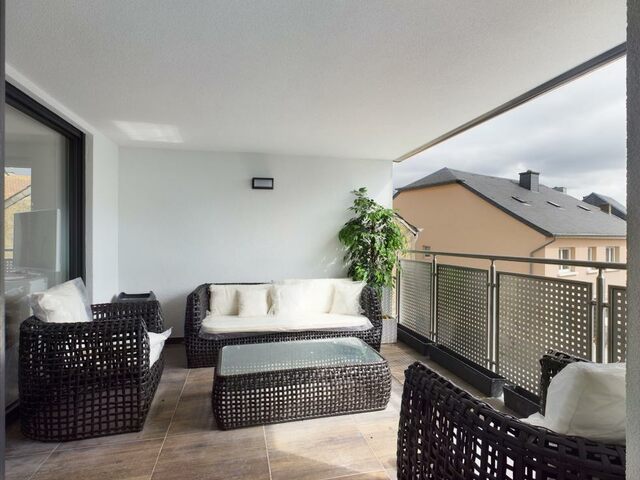 Duplex for sale in CANACH 1HX5Y
1 150 000
173 m²
4 Rooms
1
2
We offer you for sale a beautiful duplex apartment of 173m², completely renovated with high quality materials, on the 1st and 2nd floor of a small residence in Canach with a total of 3 residential units. On the first Floor there is the entrance area with separate toilet, an individually equipped kitchen with access to the terrace of 12m² with magnificent views, a living/dining room of approx. 48m² with a lot of brightness. Upstairs we find 4 rooms (14m², 13m² and 16m²), including a parent suite with bathroom and a beautiful bathroom. Attic basement closed garage and a parking space in front of the garage. You can already take a virtual tour at the link below: Please contact me for more information or for a visit. RE/MAX agency fees: 3% of the sale price - VAT charged to the selling party Richard Frings: 621 763 232 - richard.frings@remax.lu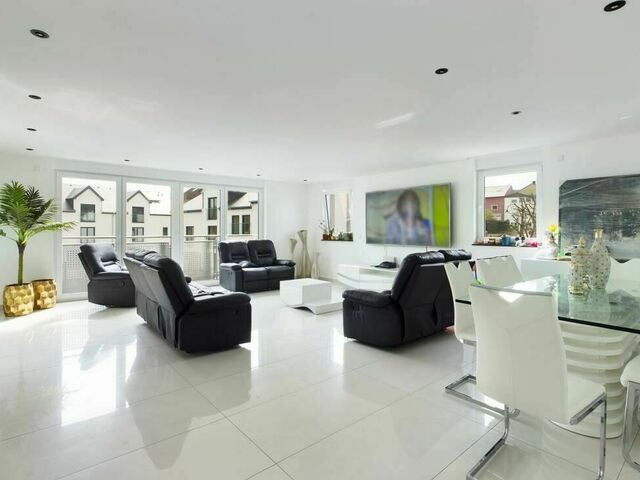 Duplex for sale in CANACH 1IR6A
1 149 000
173 m²
4 Rooms
1
2
L'agence Immoluxury a le plaisir de vous proposer un magnifique duplex à Canach absolument à voir, complètement rénové en finitions haut de gamme. Le duplex se situe au 1er et 2ème étage d'une petite résidence à 3 unités. Le bien se compose sur une surface de +-173m² comme suit: -un hall d'entrée -un WC séparé -une cuisine équipée individuelle avec accès à la terrasse de 12m² avec une vue belle vue - un salon/salle à manger d'environ 48m² Au 2ième étage: - 4 chambres (14m², 13m² et 16m²), dont une suite parentale avec salle de bain. Vous diposer également: D'un grenier, d'une cave privative, d'un garage fermé et un emplacement extérieur. La commission d'agence est inclus dans le prix de vente et sera supportée par le vendeur. Pour tous renseignements complémentaires ou prise de rendez-vous, veuillez nous contacter au no 661171773 de M. Giovanni Roberto. Toutes les indications dans le présent document sont basées exclusivement sur les informations mises à notre disposition par nos clients. Nous n'assumons aucune garantie quant à la complétude, l'exactitude et l'actualité de ces indications. Environs Vous aurez le choix entre plusieurs supermarchés à proximité : "Cactus Shoppi Texaco Wormeldange" (72 minutes à pied ou 10 minutes en voiture), "Smatch Munsbach" (83 minutes à pied ou 10 minutes en voiture), "Naturata Munsbach" (95 minutes à pied ou 11 minutes en voiture). Ce bien est situé à proximité de plusieurs lignes de bus : RGTR - 423 - Canach, Z.A. Rëckschleed - Mersch, Lycée Ermesinde, RGTR - 151 - Wormeldange/Haut, Hiehl - Limpertsberg, L.T.C., RGTR - 143 - Merl, Geesseknäppchen (S) - Canach, Z.A. Rëckschleed avec une station située à 16 minutes à pied. L'aéroport le plus proche est Luxembourg-Findel International Airport et est accessibe en voiture en 16 minutes. En moins de 10 minutes, vous trouverez une station de recharge ("Hôtel Ecluse") pour votre véhicule électrique. L'autoroute A1 (Luxembourg Ville - Wasserbillig - Allemagne) peut être rejointe en 11 minutes et la bretelle d'accès vers A7 (Luxembourg Ville - Ettelbruck) est à seulement 13 minutes en voiture. En moins de 9 minutes en voiture, vous pourrez rejoindre la gare "Oetrange". Si vous cherchez une crèche, vous trouverez "Crèche Funtasy Stuff" à 4 minutes en voiture. "Ecole Fondamentale De La Commune De Lenningen" est l'école fondamentale la mieux située : il suffit de 16 minutes à pied pour la rejoindre.
Apartment for rent in CANACH 1HTHG
Tags | apartment/triplex - 3 bedrooms - terrace - cellar - 2 indoor parking places - Canach What: High-end apartment/triplex (with lift on two floors) with a total surface of about 135m2. The building is composed of: on the 1st floor: - a corridor (8,85) - a separate toilet (2.21) - a private laundry room (1,22) - a bedroom (21,43) with balcony (3,34) and shower room (8,45) on the 2nd floor: - a living room (48,29) with access to the terrace of 20,72m2 - an open plan fitted kitchen (8) - a separate toilet (1,51) - a corridor (7,77) on the 3rd floor: - a corridor (5.32) - a separate toilet (1.51) - one bedroom (18 in floor space) - one bedroom (12.5 in floor space) - a bathroom (4.63) The flat is equipped with an intruder alarm, air conditioning in the living room and in the bedrooms on the top floor, as well as a private cellar and two indoor parking spaces. Where: In Canach, a section of the municipality of Lenningen in the canton of Remich, which is also home to Luxembourg's largest golf course, the Kikuoka Country Club, nestled in an exceptional natural setting. Why: The building is ideally located near a bus stop with connections to the Kirchberg finance centre and the European school. A small mini-market is also located a few meters from the building. The flat is available upon agreement. Some of the furniture currently in the flat can be bought back from the previous tenant. Rent : 2'100€ Utilities : 250€ Guarantee : 6'300€ Agency commission : 2'457€ VAT incl. Availability : upon agreement All information has been provided by the owner. No responsibility is assumed for the accuracy and completeness of this information. Please contact Mr Jean-Paul ROMMES on GSM 621 68 77 76 or by email at info@living-concepts.lu if you wish to arrange an appointment or have any further questions.
Duplex for sale in CANACH 1EVOH
Nous vous proposons un beau duplex de 172m², sis aux 1er et 2éme étages d'une petite résidence à Canach. Le duplex se compose d'une cuisine équipée individuelle avec accès à la terrasse, un salon/salle à manger avec beaucoup de luminosité et un wc séparé. Á l'étage nous trouverons 4 chambres, dont une suite parentale avec salle de bain, et une magnifique salle de bain. Grenier Cave privative Garage fermé et un emplacement extérieur Informations complémentaires: Panneau solaire Vidéophone Chauffage au sol Disponibilité à convenir Prix à discuter
Under offer
Exclusiveness
Semi-detached house for sale in CANACH 1GHJJ
maison jumelée du côté gauche avec passage latéral et beau jardin orienté est-sud-ouest à vendre dans un quartier tranquille de Canach (à 15km du plateau du Kirchberg) la maison très bien agencée avec une belle luminosité est agencée comme suit: hall d'entrée avec coin vestiaire et WC séparé avec lave-mains séjour traversant avec grand feu ouvert (cheminée au feu de bois) et baie vitrée donnant plain pied à la terrasse et au jardin cuisine très bien équipée avec coin à manger et porte donnant également au jardin à l'étage: 3 chambres spacieuses un dressing équipée salle de bains avec baignoire, double vasque et WC au dernier étage: grande pièce (chambre) aménagée en tant que salle de cinéma et jeu dressing (débarras) salle de bains avec douche italienne, grand vasque et WC sous-sol: garage pour deux grandes voitures en enfilade chaufferie ( chaudière au mazout avec réservoirs de 2x1500lt) buanderie, débarras avec armoires encastrées réserve (cave à vin) maison équipée d'une alarme volumétrique, d'un aspirateur central, jardin avec arrosage automatique à proximité:  Golf Club Kikuoka; arrêt de bus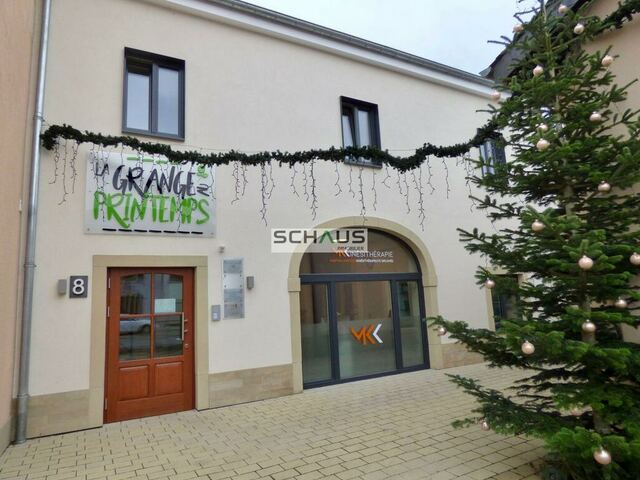 Business premises for rent in CANACH 1CXHD
Schaus Immobilier propose à la location dans la « Grange au Printemps », Centre de Wellbeing & More à Canach Une salle au dernier étage de la grange, dans un état strictement neuf se composant de : - Salle d'attente ou vestiaire (+-17 m2) - Sanitaires avec EC et lavabo (+-11m2) - Grande salle idéale notamment pour yoga, pilâtes, cours, conférences, bureau, … (+-60,50m2). Un parking pour les clients se trouve devant l'immeuble. L'espace est entièrement rénové et depuis mars 2019, un kinésithérapeute, un psychologue, un prestataire de massages ayurvéda et un magasin pour des articles de dance y sont implantés. Nous sommes à votre disposition pour tout renseignement complémentaire. Les honoraires de négociation sont à la charge du locataire et s'élèvent à un loyer augmenté de la TVA en vigueur. Disponibilité: immédiate

Suggested listings in proximity