Search area changed by moving map.
House used rent schengen
5

results match your criteria

Receive new ads as soon as they are published
Listings
at this marker:
x
FIRST
Individual house for rent in SCHENGEN 1HYLJ
Elégante maison individuelle à louer- RARE- Idéalement située entre Schengen et Remich, au coeur d'un village authentique, une élégante maison avec grand jardin et sa vue sur la Moselle et ses rives. Ici, Luxembourg ville se gagne facilement et s'oublie complètement. La demeure exhale un charme mâtiné de provinciale quiétude. Tonalités lumineuses et matériaux précieux s'accordent avec quelques éléments de mobilier anciens de très belle facture (qui accessoirement, peuvent rester à la disposition du futur locataire le temps du bail), ici, l'accent est mis sur la qualité, la fluidité de l'aménagement et le cadre, particulièrement inspirant, avec sa vue dégagée sur le jardin et les rives de la Moselle. Une combinaison parfaite qui met en valeur l'élégance des lieux. Rez-de-chaussée: le rez-de-chausée de la maison est conçu comme une habitation indépendante. Accessible depuis le jardin il dispose d'une arrière cuisine entièrement équipée, d'une buanderie, d'une salle de douche avec toilettes, de deux grandes pièces pouvant accueillir au choix une salle de jeux, salle de sport, atelier d'artiste ou une chambre, d'un grand garage 2VL , d'un local technique et d'une cave. Ce niveau dispose d'une entrée indépendante sur l'arrière de la demeure menant au jardin. Un accès direct donne la possibilité de considérer cet étage comme un appartement entièrement indépendant du reste de la maison où l'exercice d'une profession libérale pourrait être envisagée. Premier étage: Passé un hall d'entrée ensoleillé, l'accès se fait par un très bel escalier agrémenté d'une rampe en fer forgé.Le palier, distribue sur le grand salon, la salle à manger et la cuisine équipée qui, avec la suite principale, s'articulent autour du balcon avec vue sur le jardin. La chambre principale, dispose de placards intégrés et d'une salle de bain. Un petit salon, une salle de douche et toilettes et un bureau bibliothèque complètent ce niveau. Second étage: Suivant le même plan que les deux autres niveaux, ce dernier étage se divise en trois chambres donnant sur le jardin, une salle de bain, des toilettes et deux autres pièces pouvant accueillir un dressing, une chambre ou un bureau. A l'extérieur: Le jardin est entièrement clos et joliment aménagé, deux emplacements extérieurs complètent l'ensemble. Une atmosphère élégante et raffinée, un sentiment d'espace et de fraîcheur, une parfaite harmonie entre les pièces, un jardin une douce quiétude rythmée par les cloches du village, les écoles à proximité : tout ici est réuni pour partager une vie épanouie dans un cadre authentique et agréable. Visites et informations complémentaires sont disponibles au 621 412 073 ou sur info@patrimonium-immobiliere.lu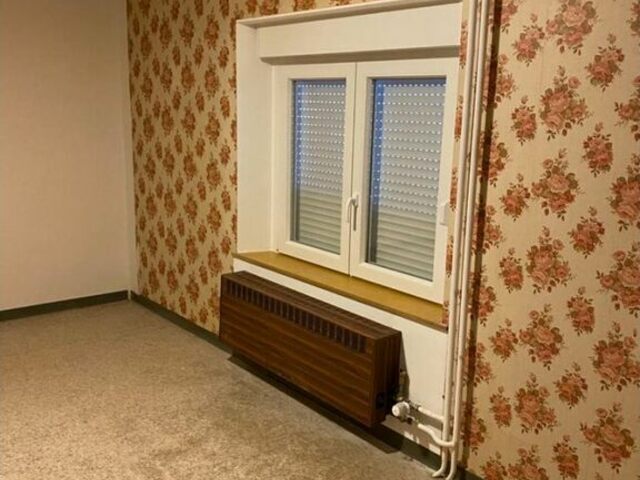 House for rent in SCHENGEN 1K7ZV
*** A LOUER A 5mn DU DOMAINE THERMAL*** MAISON DE VILLAGE *** VUE DEGAGEE *** A Emerange - Commune de Schengen Maison de village d'une surface habitable de +/- 115m² pour une surface totale de 215m² comprenant: Au rez-de-chaussée un hall d'entrée, la cuisine séparée, la salle-à-manger avec accès terrasse/jardin, et un bureau/chambre d'ami de 13m² et des wc invités. A l'étage un grand living avec accès aux combles aménageables, 3 chambres à coucher (13m², 13m², 11m²) et une salle de douche avec WC ainsi qu'un accès à un petit balcon donnant sur le jardin. Garage, local technique/buanderie, grande pièce de stockage Annexe de 28m² sur 2 étages Grande terrasse et jardin Petite rue en impasse, très calme, à 5minutes en voiture du Domaine Thermal de Mondorf. Informations complémentaires ou visite: Pierre Lavaux - 661 274 771 ~~~~~~~~~~~ Vous pensez à vendre votre maison ou votre appartement... C'est une décision importante! Nous sommes là pour vous accompagner, avec efficacité. Nos estimations sont sérieuses, réalistes et gratuites. Profitez-en! Chacune de nos annonces sont réalisées avec un soin tout particulier. Votre bien sera mis en valeur comme il le mérite! Contactez nous: Laforêt Prestige - 27 47 72 glacis@laforet.lu ________________________________________________________________ Les informations fournies par l'agence ont un caractère indicatif et non contractuel. En conséquence, elles ne peuvent engager la responsabilité de l'agence et ne dispensent pas la personne intéressée de réaliser les vérifications.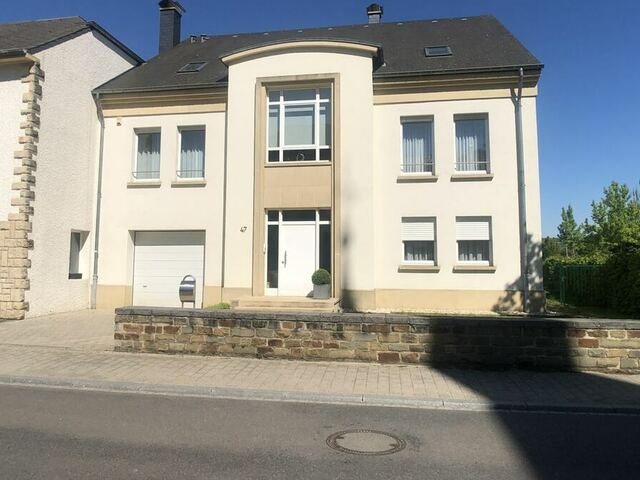 Mansion for rent in BECH-KLEINMACHER 1K1AY
Magnifique maison de maître entourée d'un grand jardin se situant en plein centre du pittoresque village de Bech-Kleinmacher. Le bien dispose aux 2 étages supérieurs de très beaux volumes et d'un espace de vie de +/- 300 m2 composé par un très grand séjour/salle à manger, de 5 chambres à coucher ainsi que d'un bureau, de 5 salles de bains et d'une cuisine équipée. Au rez-de-chaussée s'ajoutent plusieurs pièces pouvant être utilisées dans le cadre de l'exercice éventuel d'une profession libérale (cabinet médical ou de kinésithérapie...) ainsi qu'un garage. Le lycée de Schengen se trouve à proximité.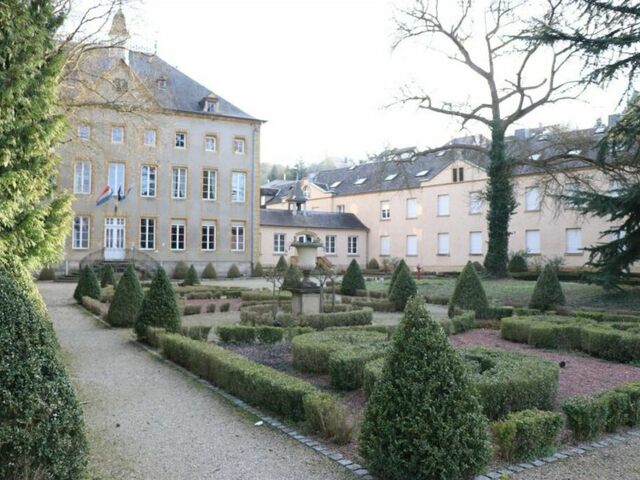 Castle for rent in SCHENGEN 199J4
Ce domaine de prestige, situé au bord de la Moselle, construit au début du XIXème siècle (1812) bénéficie d'un emplacement unique à Schengen, aux confins des trois frontières (LUX-FR-ALL). Cette bâtisse historique jouit d'une vue imprenable sur la Moselle et est arborée d'un parc de 129,10 ares. Une demeure de charme avec une surface utile de 5.559 m², composée du Château et de la Tour Victor Hugo, d'une maison indépendante à 4 niveaux ainsi que des annexes sur 4 niveaux. De nombreux scénarios et concepts sont possibles, mais uniquement en contrat de bail commercial et pas de contrat d'habitation privée Disponibilité immédiate
Send an inquiry to real estate agents having property that matches your criteria.

Suggested listings in proximity