Search area changed by moving map.
House moutfort
6

results match your criteria

Receive new ads as soon as they are published
Listings
at this marker:
x
TOP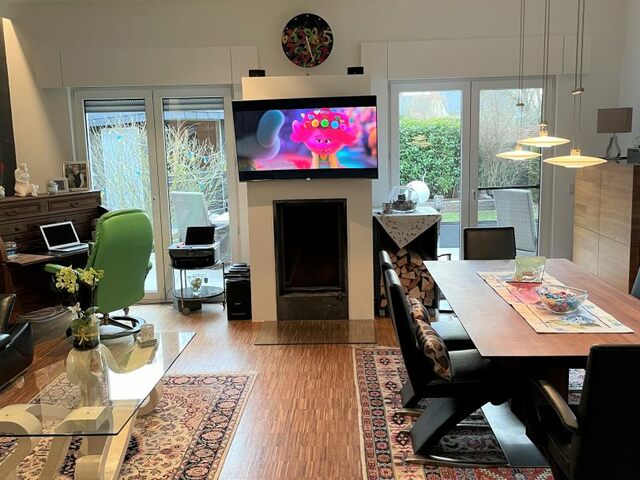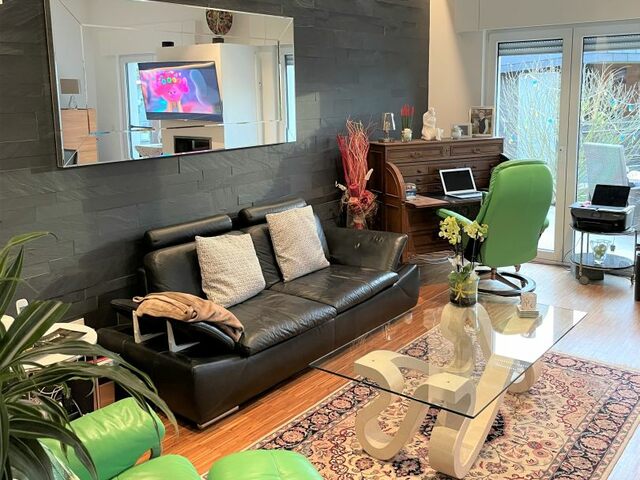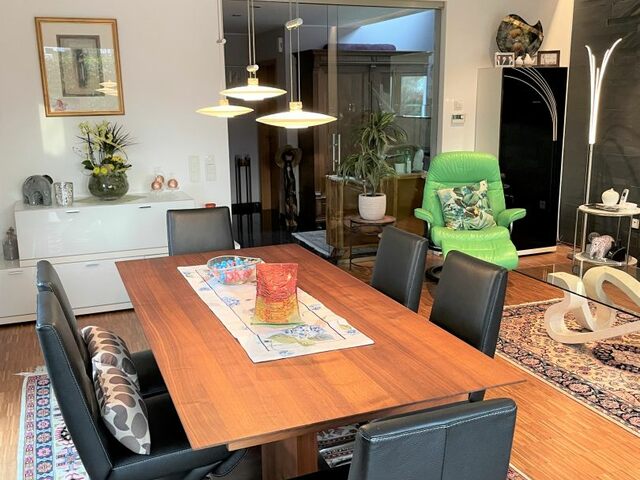 House for sale in MOUTFORT 1FF0E
1 390 000
180 m²
4 Rooms
1
3
L'agence CIMOLUX vous propose une belle maison libre des 4 côtés située à Moutfort avec une superficie de +/-180m2 et 4,44 ares de terrain. La maison dispose: Au rdch: un hall d'entrée, un WC séparé, une cuisine équipée séparé, un salon/salle à manger avec feu ouvert et avec sortie sur la terrasse et le jardin. Au 1er étage: une salle de douche, 3 chambres dont une avec une salle de bain privé. Au 2ème étage: un grenier et une grande chambre. Au sous-sol: une cave, une buanderie, un garage, une cave à vin, un débarras, un sauna et une salle de douche. De plus la maison dispose également de deux parkings extérieurs. Prix 1.390.000€ (frais d'agence compris 3% + Tva 17 % à la charge du vendeur) Pour plus d'informations n'hésitez pas à nous contacter on parle français, allemand, luxembourgeois, anglais, portugais et italien. Pour l'obtention de votre crédit, notre relation avec nos partenaires financiers vous permettront d'avoir les meilleures conditions. Disponibilité: immédiate
FIRST
House for sale in MOUTFORT 1FN3T
3 499 000
366 m²
4 Rooms
1
1
NEW IMMO, votre agence immobilière située à Luxembourg Belair, vous propose à la vente cette spacieuse maison construite en 1995 et érigée sur un terrain exceptionnel de 40.5 ares situé dans lotissement de maisons individuelles verdoyant et bordé par la zone protégée Natura 2000 dans la commune de Contern. Pour plus d'informations, veuillez contacter votre agent immobilier : Iolanda MUOLO - e-mail : iolanda.muolo@newimmo.lu ou Gsm : 621 133 293 La maison d'une surface habitable de 366 m² se compose comme suit: Au Rez de chaussé la maison s'ouvre sur une belle entrée avec Wc invités, divers salons, dont un dispose d'une magnifique hauteur sous plafond de 7.30m avec cheminée, la cuisine équipée ouverte sur le salon et la véranda de 63 m2 entièrement vitrée de laquelle on accède à la grande terrasse exposée sud - ouest, animée de jeux de lumière et d'eau et pouvant être entièrement couverte. Ce niveau comprend également une chambre à coucher, 1 salle de bain, un bureau et un espace wellness équipé de Cabine Sauna/Hammam KLAFS avec vue sur la nature et d'une douche. Un garage et une buanderie complètent ce niveau. Au premier étage se situe 1 chambre parentale de 18m2 avec dressing et 2 chambres à coucher duplex offrant de nombreuses possibilités d'emménagement aisni que une salle de douche avec Wc. La conception de cette maison a bénéficié d'aménagements soignés et permet de répondre aux attentes d'une clientèle des plus exigeante. Un agrandissement de la maison au niveau du premier étage tout comme la construction d'une piscine et maisonnette de piscine sont réalisable. Moutfort est un village bien desservi par les transports en commun et offrant un environnement calme à quelques kilomètres seulement du centre ville de Luxembourg avec d'excellentes commodités telles que écoles, crèches, restaurants, cabinets médicaux, épicerie, boulangerie etc.. Disponibilité: à convenir
FIRST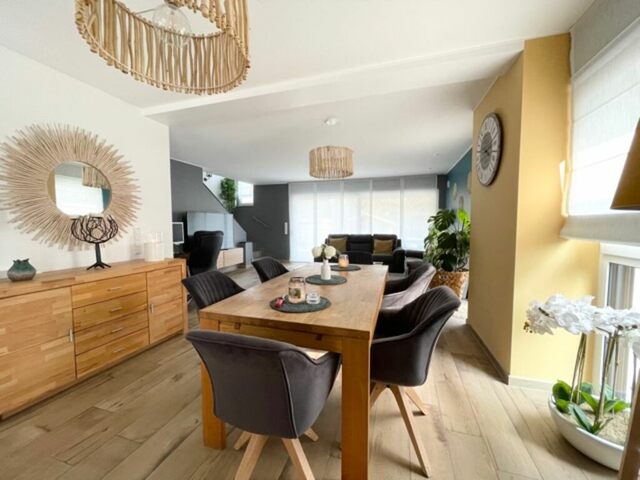 Terraced house for sale in MOUTFORT 1GX0A
1 480 000
137 m²
3 Rooms
2
3
Phoenix Immobilier vous propose cette magnifique maison construite en 2019 avec des finitions haut de gamme et aménagée avec goût. Elle comprend un hall d'entrée, une cuisine équipée ouverte avec un débarras, un salon/salle à manger donnant accès sur la terrasse et le jardin, 3 chambres dont une avec dressing et une avec une salle de douche/wc, une salle de douche indépendante avec wc, et un wc séparé. Vous trouverez également au sous-sol une buanderie, et un garage pour 3 voitures. Volets électriques, panneaux solaires, poêle à pellets et bois. A voir absolument! Référence agence : ES082.
House for sale in MOUTFORT 1FRO8
2 690 900
339 m²
4 Rooms
3
2
Engel & Völkers is pleased to exclusively offer you the Lot 14 of the new and prestigious "ESPEN" housing estate in Moutfort. With its contemporary architecture, the "T-House" in its basic variant, features a total surface of ±338sqm, of which ±219sqm is net living space. The ground floor hosts an entrance hall with wardrobe and guest toilet, the living/dining room with open kitchen (±77,9sqm) and access to 2 terraces and the garden. An office with separate entrance, as well as a garage for 2 cars complete this level. The 1st floor offers a master suite with bathroom, WC, dressing area and terrace, 2 other bedrooms with a shared terrace, 1 shower room and a 4th bedroom with a private shower room. A laundry chute in the corridor is at your disposal. The last level offers a roof terrace of 91,4sqm to enjoy the sun and panoramic views. On the recessed top floor there is the possibility to add 57sqm of living space or to install a swimming pool. The basement houses the heating room, the technical room, the wine cellar, the multi-purpose room, the laundry room and 1 cellar. The modern, very appealing yet functional architecture, designed by the renowned architecture firm "JEAN PETIT ARCHITECTES S.A." makes this project unique and stands out from the standard model currently in use. The project is planned according to the latest technology, offers a lot of comfort and is independent of fossil sources thanks to the use of a heat pump.. - 2.690.900 € incl. 3% VAT. (for main residence) - 2.740.900 € incl. 17% VAT (for investors) The exclusive residential development "ESPEN", with a total of 39 single family houses to be built, is located in Moutfort, between the roads "Um Kinert" and "Kiem", set back from the main road "Route de Remich". One of the best locations of the entire project is offered by this lot with the "T-house" variant, which offers its future residents a breathtaking view of the fields and meadows at the back. The nearby "Syrdall" cycle path and woods are perfect for long walks and bike rides.. The equestrian center "Mutferter Haff" is situated in the immediate vicinity. The municipality of Contern offers an excellent infrastructure: kindergarten, nursery, crèches, primary school, music school, a variety of restaurants, grocery store, bakery, butcher, hairdressers, physiotherapy practices, sport facilities and many other leisure activities. Sandweiler, with many additional offers, is approx. 4 km away. The project has an excellent connection to the transportation network. The distances : - Motorway A1: ±7km - Kirchberg : ±10.6km - Findel Airport : ±11km - Oetrange train station : ±2.4km - Bus stop "Moutfort, Kiem": ±320m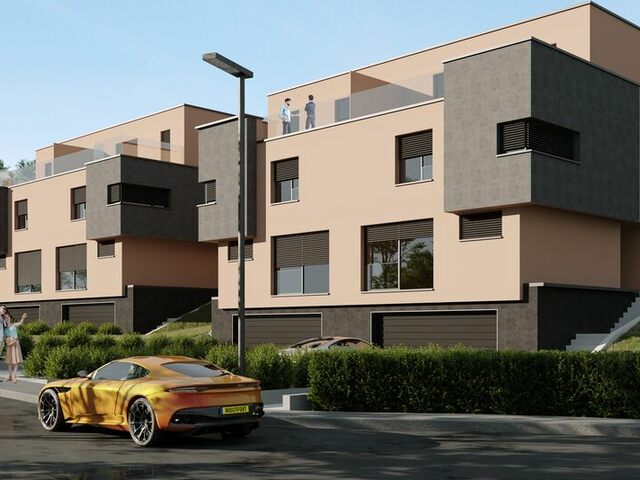 Semi-detached house for sale in MOUTFORT 1I4AD
2 020 000
260 m²
4 Rooms
3
A vendre, luxueuse maison unifamiliale de 260 m2 ( au total 340m2) offrant quatre chambres à coucher dans le nouveau projet OXYGENE. Cette maison unifamiliale actuellement en cours de construction sur un terrain de 5,70 ares est située dans une rue sans issue et au bord de la forêt. Ce projet satisfera les clients soucieux de vivre dans un environnement verdoyant tout en bénéficiant de toutes les commodités autours, avec des prestations de haut standing. La propriété offrira sur le rez-de-chaussée un hall d'entrée d'une hauteur sous plafond de 5,50 mètres ainsi que d'un espace vestiaire et WC. La cuisine entièrement équipée donnera accès au jardin et terrasse de 35m2. Cet espace continuera sur la salle à manger ainsi que sur le salon. Le premier étage disposera de trois chambres à coucher offrants respectivement 15m2, 22m2 et 19m2. Deux chambres disposeront chacune d'une salle de douche privative. Le dernier étage de cet objet sera exclusivement consacré à une suite parentale avec dressing, salle de bains et double terrasses. Un garage double, une buanderie, deux caves ainsi qu'une chaufferie complèteront le sous-sol. Ce luxueux projet bénéficiera d'aménagements soignés tels qu'une cuisine équipée haut de gamme, des menuiseries triple vitrage en aluminium - intérieurs en bois, parquet massif huilé BÖHM, luminaires haut de gamme, finitions de premier choix, ventilation double-flux, domotique KNX, système d'alarme, garage double, panneaux solaires etc.. Disponibilité : 3ème trimestre 2022 L'objet se situe 13, cité Ledenbierg L-5342 Moutfort - Commun de CONTERN. Prix du bien : 2.020.000 Euros. Les futurs propriétaires pourront en cas d'habitation à titre personnel, bénéficier du remboursement de la TVA pouvant aller jusqu'à 50.000 euros.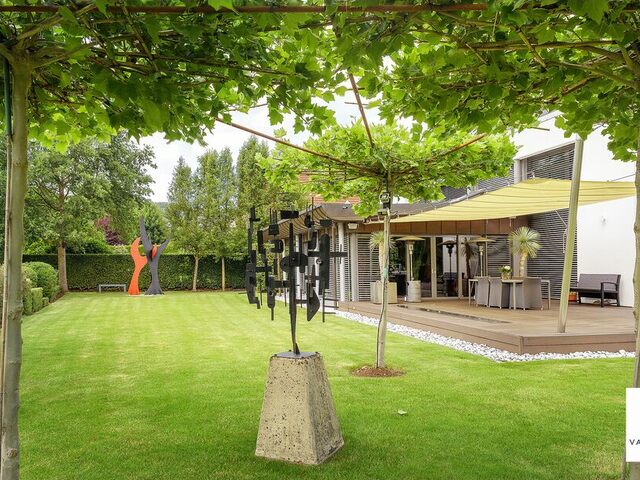 House for sale in MOUTFORT 1H9QG
3 499 000
360 m²
5 Rooms
3
5
C'est en 1995 que cette belle maison d'architecte a été construite sur un terrain de 32ares et 70 centiares dans un quartier résidentiel et verdoyant de Moutfort. Bâtie dans un esprit écologique avant-gardiste avec des matériaux de qualité, ses 360m² habitables sur un total de ± 415 m² présentent de nombreux attraits qui devraient faire le bonheur d'une famille. Elle se compose comme suit: Au rez-de-chaussée: Une entrée de ± 10m² avec vestiaire et toilette d'invités, un hall ±5m² conduit vers un sauna et douche ± 11m², une chambre ±12m², une buanderie ±6m², une salle de bains ±10m², un bureau/bibliothèque ±12m², une cuisine équipée et aménagée ±32m² ouverte sur un spacieux séjour ± 92m². Très lumineux, ce dernier est composé d'un salon (10m de haut) et sa cheminée, d'une salle à manger, d'une véranda avec grandes baies vitrées et puits de lumière, l'ensemble donnant sur le jardin et la terrasse d'environ 125m². Le garage ±35m² peut abriter 2 voitures. Une salle de fitness avec équipements et insonorisée a été installée en mezzanine. Au 1er étage: Une salle de douches ±6m² avec douche à l'italienne, double vasques, wc et bidet, une chambre avec mezzanine ± 17m² séparée par un couloir ±6m² de la suite parentale ± 21m² avec dressing ±15m² et salle de bains ±10m² et d'une chambre de ± 29m². Le parc, aménagé, est agrémenté d'une grande pelouse, de sculptures, d'un terrain de pétanque et divers arbres dont des arbres fruitiers (quetschs, mirabelles, pommes). L'arrosage se fait via l'eau du puits ou par pompage dans l'étang. Autorisations disponibles pour des extensions pour piscine et clubhouse. Détails supplémentaires: Possibilité achat 7 ares supplémentaires, terrain non constructible: 450.000€ Isolation: Blocs KBL Système d'alarme: Teleguide Intelligent Security (Rolling Code); 3 abris de jardin: atelier électricité, abri pour le tracteur, stockage du bois; Chaudière gaz de ville; Sauna et solarium de marque Klafs; Agent responsable du dossier: Maurits van Rijckevorsel Mobile: +352.621.198.891. Mail: maurits@vanmaurits.lu
Send an inquiry to real estate agents having property that matches your criteria.

Suggested listings in proximity