Search area changed by moving map.
Consdorf
8

results match your criteria

Receive new ads as soon as they are published
Listings
at this marker:
x
TOP
Exclusiveness
Villa for sale in SCHEIDGEN 11RVS
3 999 000
1100 m²
8 Rooms
7
10
Veuillez contacter Jonathan au +352 621 301 943 ou jf@genest.lu Vidéo en français : https://youtu.be/fw32HtWKP4M Vidéo en anglais : https://youtu.be/hUBUd4NIrZE RARE au Luxembourg, GENEST IMMOBILIÈRE vous propose en exclusivité ce bien de prestige dans un petit village au calme situé à 20 minutes de la capitale. Sur un terrain de 3Ha vous y trouverez deux maisons jumelées : Une première construite en 1924 et entièrement rénovée de 270m² comprenant 4 chambres, 2 salles de bains, un grand garage pour une voiture, un grenier aménageable, un sous-sol ainsi qu'une terrasse et un jardin. Une deuxième maison construite en 1995 de 880m². Cette villa comprend 4 chambres, 4 salles de bains, 6wcs, une magnifique piscine intérieure, une pièce sauna/jacuzzi, un vaste salon/séjour/cuisine, une salle de sport, une cave à vins, plus de 100m² de garage, une grande terrasse ainsi qu'un jardin de 3Ha Pour plus d'informations, veuillez me contacter au +352 621 301 943 ou jf@genest.lu Movie: https://youtu.be/hUBUd4NIrZE Exclusive to Luxemburg, GENEST IMMOBILIÈRE presents this luxury property in small quiet village, 20 minutes from Luxemburg City. Set in 3 ha grounds, 2 semi-detached houses, the first one built in 1924 with 270 m² of fully renovated floor space comprising 4 bedrooms, 2 bathrooms, large living area, spacious 1-car garage, attic space suitable for conversion, basement, as well as terrace and garden. Second 880 m² villa built in 1995 comprising 4 bedrooms, 4 bathrooms, 6 wc, delightful indoor pool in the centre of the house, sauna/Jacuzzi, spacious sitting room/living room/kitchen, gym, wine cellar, over 100 m² garage, large terrace and 3 ha garden. For further details, please contact us: +352 621 301 943 or jf@genest.lu
TOP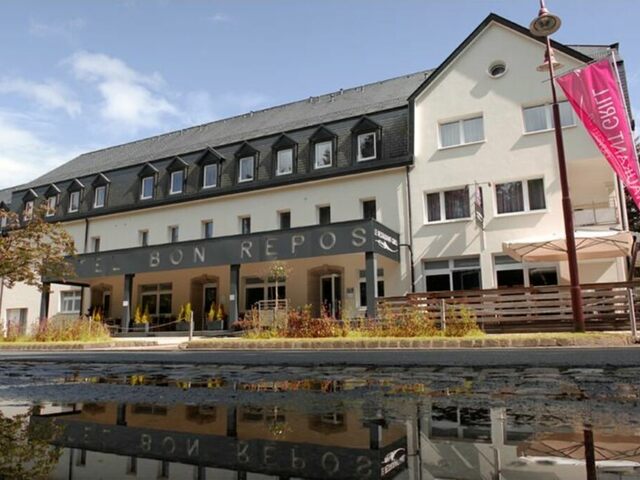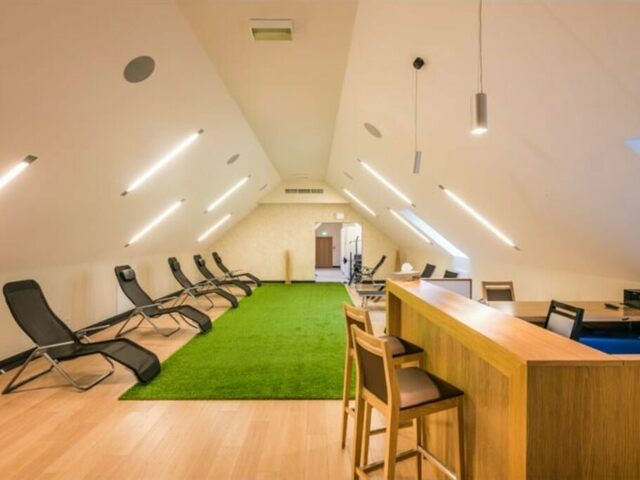 Hotel for sale in SCHEIDGEN 1G00W
A VENDRE Complexe hôtelier avec finitions de haut standing comprenant : Restaurant de +/- 80 places Café - Bar de +/- 40 places Hôtel comprenant 24 chambres équipées Deux Appartements duplex avec 3 chambres REGION Dans le cœur de la pittoresque "Petite Suisse" luxembourgeoise, entouré de bois et parfaitement situé à proximité du sentier de randonnée Mullerthal, Le Bon Repos est la base idéale pour les visiteurs désireux de profiter de tout ce que cette belle région a à offrir. RESTAURANT Le restaurant ''Grill'', dans une salle lumineuse et accueillante avec une cuisine ouverte, est spécialisé dans de copieux et généreux plats de viande et de poisson grillés. Une jolie terrasse ombragée est disponible pour les beaux jours. WELLNESS – SPORTS Pour le summum de la détente, Le Bon Repos offre à ses hôtes un sauna et un hammam relaxants. Le Bike Centre est un autre atout pour l'hôtel. Offrant des vélos de montagne et de route parfaitement entretenus, ainsi que des conseils d'experts. Les débutants peuvent même réserver un cours d'initiation au VTT avant d'atteindre les sentiers locaux. Grâce à son emplacement au cœur du superbe sentier de randonnée Mullerthal de 112 km, Le Bon Repos est idéalement placé pour un certain nombre de sentiers de randonnée et de randonnées, directement accessibles depuis l'hôtel. ENFANTS Une aire de jeux pour enfants est également disponible, avec un cadre d'escalade, une balançoire et un toboggan. ACTIVITES Dans les environs immédiats de l'hôtel, les forêts, les cascades et les formations rocheuses de Mullerthal attendent d'être découvertes, à pied, à vélo ou en voiture. Le Bon Repos est situé tout près de l'historique Echternach, qui abrite les restes de la plus grande villa romaine d'Europe et du magnifique lac, où les visiteurs peuvent pêcher, marcher ou faire un voyage en pédalo. A une vingtaine de minutes en voiture, les amateurs d'histoire apprécieront le château de Beaufort bien conservé, qui remonte au 11ème siècle. Pour les amateurs de golf, le parcours verdoyant de 18 trous de Christnach est également à proximité. Au-delà des plaisirs idylliques de Mullerthal, les châteaux et les paysages spectaculaires des Ardennes luxembourgeoises et les vignobles et les collines qui bordent les rives de la Moselle sont à une courte distance en voiture. Pour ceux qui recherchent une touche de sophistication urbaine, la ville de Luxembourg, qui abrite la vieille ville fortifiée classée au patrimoine mondial de l'UNESCO, est à seulement une demi-heure de route, tandis que la ville allemande historique de Trèves est à 40 minutes.
Sold
House for sale in CONSDORF 1D1S7
1 481 512
167 m²
3 Rooms
2
2
Wiesen-Piront offers you *** Start of the construction, 2nd semester 2021 *** Beautiful semi-detached single-family house (left side) under future construction at NZEB (Nearly Zero Energy Building) located on a huge 60.56 ares plot in Consdorf in the Melicksheck street. The house has a modern architecture and contains a total area of 320 m2. The property is composed as follows: In the basement you find a laundry room, a technical room, a cellar, a hobby room, an airlock and the staircase that goes up to the ground floor. On the ground floor there is a garage that can accommodate two cars, an entrance hall, a separate toilet, an open kitchen that opens onto the bright living room and gives access to the terrace and the garden. Upstairs there are three bedrooms including a master bedroom with a private bathroom and dressing room, a night hall and a second bathroom. Price: 1.481.512.€ - 3% VAT included *)**) *) subject to acceptance by the Registration Administration **) premiums from the Environment Administration already deducted
House for sale in CONSDORF 1DO8M
979 500
197.6 m²
6 Rooms
1
2
Semi-detached house (right) - new construction - for sale in Consdorf For more information please visit our homepage www.erlo.lu or contact us. Phone: (+352) 28207676 For any further informations or arrangement of an appointment don't hesitate to contact us. You will find the total of our real estate offers at our website: www.erlo.lu. The information provided with the listings may not be totally accurate. Subject to prior sale.
Exclusiveness
House for sale in CONSDORF 1INMM
1 548 000
262 m²
6 Rooms
1
4
Abrigo vous propose une maison individuelle, idéale pour 2 générations et héberger vos invités, construite en 2016 sur un terrain de 5,66 ares, avec 4 chambres à coucher, plus un penthouse séparé au dernier étage, avec deux chambres à coucher. Vu l'escalier séparé pour monter au dernier étage, le penthouse peut facilement être loué. Cette maison avec beaucoup d'espace et de potentiel se situe à Consdorf et se compose comme suit: RDCH: - hall d'entrée commun avec accès séparé pour la partie vivante de la maison et un escalier séparé pour l'appartement au 2e étage, Partie maison: - grand living lumineux, avec cuisine équipée ouverte et accès sur la terrasse et le jardin - débarras - WC séparé 1er étage: - 1 chambre parentale avec salle de bains privative - 3 chambres à coucher - 1 petit bureau - 1 salle de bains avec baignoire et douche 2e étage: Penthouse de 78 m2, se composant comme suit: - hall d'entrée, - grand living/salle à manger avec cuisine équipée ouverte, avec accès, par une porte coulissante, dans une pièce, qui peut être utilisée, soit comme living ou 2e chambre - une loggia - 1 chambre à coucher avec salle de douches privative - deuxième salle de douches avec WC au rdch: - une buanderie commune, un débarras avec accès au garage Pour plus d'informations, veuillez nous contacter au 26 78 28 28 ou info@ abrigo.lu Disponibilité: à convenir
House for sale in SCHEIDGEN 1GLRA
1 880 000
284 m²
10 Rooms
3
3
Lots of space for your free development in the midst of beautiful nature - tradition & modernity in one property: Engel & Völkers offers you this versatile country house combination, located in the idyllic rural outskirts of Scheidgen. The entire property consists of two interconnected houses - an old building from 1920 (completely renovated in 2016) and a new building from 2018 - on a plot of 58 acres that extends to the edge of the forest. The spacious garden is oriented to the south-west, offers plenty of space for your hobbies and can be individually designed. With a living space of ± 284m² (10 rooms, 3 bathrooms, toilet, 2 kitchens) and an additional usable area of ​​± 128m² as well as 3 garages, a large terrace with grill station / outdoor kitchen and a multifunctional hall (e.g. workshop, warehouse), the property is ideal for Families with children and animals, for self-employed / freelancers (living and working under one roof) or as a multigenerational house. - Ground floor: large entrance hall with wood stove, kitchen with dining area, bathroom / toilet, large dining and living room with second kitchen and access to the terrace, garden and the garages. - 1st floor: spacious master suite with bathroom and dressing and an additional room (fitness, office, etc.) as well as roof terrace with garden view in the new building. In the old building on the same level there are 4 more rooms, 1 bathroom and 1 toilet and a balcony-terrace. - Top floor: an additional room. The house is equipped with oil heating and an additional fireplace (wood). Multiple further expansion options are available. The property is located in the village of Scheidgen (513 inhabitants) between Junglinster and Echternach in the east of Luxembourg on the German border. Scheidgen (municipality of Consdorf) is known for its outstanding location in the Mullerthal (Luxembourg's Little Switzerland ') with its river and rocky landscapes and is an ideal starting point for hikes, bike tours and sports and leisure activities of all kinds. - Echternach (6 km) has an excellent infrastructure with supermarkets, bakeries, butchers, hairdressers, pharmacies, medical practices, schools, restaurants, petrol stations, the recreation area 'Echternacher See' and the cultural center 'Trifolion'. - Junglinster (15 km) also offers an excellent infrastructure, including the "Laangwiss" shopping center, as well as countless leisure activities (e.g. swimming pool, tennis and golf). Luxembourg-Kirchberg can be easily reached in just 28 minutes. Distances: - Bus stop: ± 160 m | - Expressway E29: ± 1.8 km - Autoroute A1: ± 20 km | - Gare CFL: ± 13 km - Kirchberg: ± 26 km | - Findel Airport: ± 26 km - Lycée Classique d'Echternach: ± 9 km - Lënster Lycée International School: ± 15 km - Maison Relais and Consdorf primary school: ± 2 km - General practitioners: ± 2 km - Hospital Center of Luxembourg (CHL): ± 30 km - Hospital Robert Schuman Kirchberg: ± 25 km - ECHTERNACH (Cactus, REWE, Delhaize): ± 6 km - JUNGLINSTER (ALDI, Delhaize, 'Laangwiss'): ± 15 km - Restaurants and hotels: ± 150 m - 6 km
Duplex for sale in CONSDORF 1I8TG
780 000
138 m²
4 Rooms
2
2
Bel appartement duplex d'une superficie de 138 m2 situé au premier étage à Consdorf. Le bien ce compose comme suit : - Hall d'entrée avec grand dressing - Cuisine ouverte - Salon/séjour - Balcon 9m2 - 4 Chambres - WC séparés - 2 salles de douche - 2 parking extérieur privé - Cave privé - Buanderie commune Les photos seront réalisées d'ici quelques jours Pour plus d'informations, convenir d'un rendez-vous, vous pouvez contacter David au : +352 621 69 90 90 info@goodaddress.lu Estimation gratuite en 24h
House for sale in CONSDORF 1EVLK
*** Sous compromis *** Nous avons le plaisir de vous proposer une maison mitoyenne partiellement rénovée d'une surface habitable de 90 m2 situé à Consdorf. Cette maison est agencée de la manière suivante : Hall d'entrée / séjour , une salle à manger et une cuisine équipée ouverte refaite en 2015 avec accès sur terrasse et jardin Au premier étage nous avons deux chambres à coucher, un bureau de 7m² et une salle de douche refaite très récemment avec espace buanderie. Au deuxième étage nous avons grenier avec salle technique pour la chaudière et un espace aménageable Extérieur : Une terrasse arrière, un jardin, un garage une voiture. Au sous-sol nous avons une petite cave avec accès unique depuis le jardin. Caractéristique techniques : - Chaudière : Chauffage à mazout - Classe énergétique : E-F - Vitrage : Triple vitrage - Dalle : Bois / béton - Toiture : Nettoyage de la toiture récent Pour toute information complémentaire ou visite, merci de prendre contact avec Monsieur Baizidi au 00352 / 691 121 416. Disponibilité: immédiate

Suggested listings in proximity