Apartment used rent clervaux
Apartment used rent clervaux
10

results match your criteria

Receive new ads as soon as they are published
TOP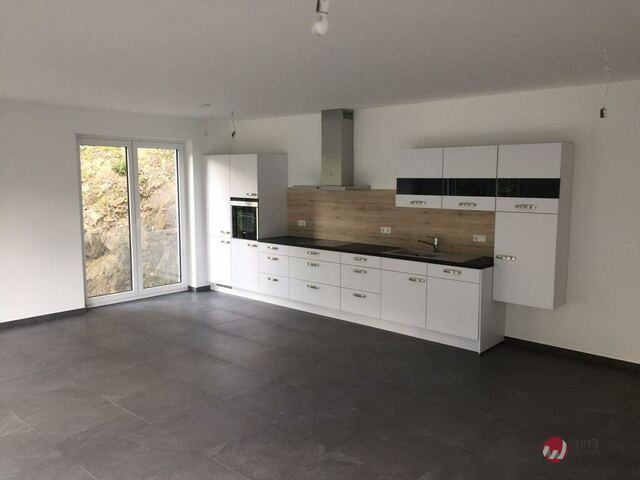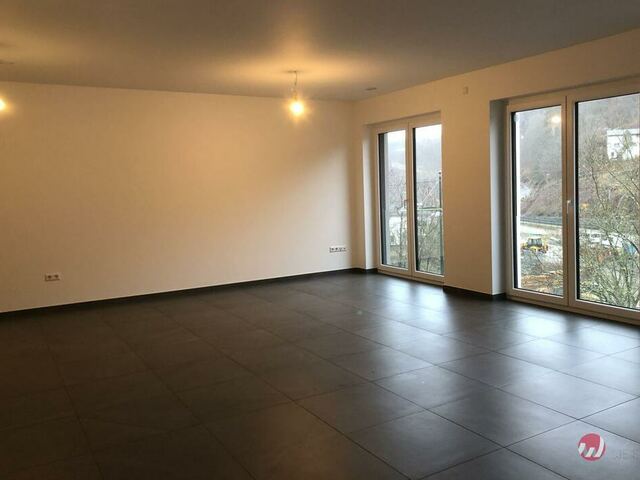 Apartment for rent in CLERVAUX 132JS
Appartement d'une surface habitable de 100m² à louer au 3ème étage d'une résidence avec ascenseur à Clervaux. L'appartement se compose d'un hall d'entrée de 14m², d'une cuisine équipée ainsi qu'une salle à manger et un living de 48m², de deux chambres à coucher de 14m² et de 21m², d'une salle de douche de 9m² et d'un wc séparé de 3m². Aspects techniques: fenêtres en PVC avec triple vitrage, dalles en béton, carrelage au sol et des volets électriques. Loyer: 1300€/mois Charges: 150€/mois Caution: 3mois Les frais d'agence s'élèvent à un mois de loyer + TVA 17% et sont à charge du locataire. Disponibilité: autre
FIRST
Apartment for rent in REULER 12RDZ
Magnifique appartement d'une surface habitable de ±70m² à louer dans la résidence "IXIA" de 12 unités construite en 2017. Cet appartement se situe au deuxième et dernier étage et se compose d'un hall de 4,25m², d'un séjour avec cuisine équipée de 35,07m², d'une terrasse avec une vue formidable , de deux chambres à coucher de 12,23 et 12,42m², d'une salle de douche de 4,96m² et d'un grenier. En outre, cet appartement dispose d'une cave et d'un emplacement intérieur. Aspects techniques: Chauffage au mazout, chauffage au sol , revêtement du sol en carrelages et en parquet, fenêtres avec double vitrage, volets électriques, classe énergétique: B-C. Disponiblité: Avril 2020 Loyer: 1.050,- EUR Charges: 150,- EUR Caution: 3 mois Les frais d'agence s'élèvent à un mois de loyer + TVA 17%, à charge du locataire. Disponibilité: Avril 2020
Under offer
Apartment for rent in CLERVAUX 11YW6
Appartement d'une surface habitable de 70m² à louer au 3ème étage d'une résidence avec ascenseur à Clervaux. L'appartement se compose d'un hall d'entrée de 8m², d'une cuisine équipée de 8m², d'une salle à manger avec living de 26m², de deux chambres à coucher de 12m² et 8m² et d'une salle de douche de 5m². Aspects techniques : fenêtres en PVC avec double vitrage, dalles en béton, carrelage au sol, hauteur des pièces (2,50m) et chauffage au mazout. Loyer: 950€/mois Charges: 180€/mois Caution: 3 mois Les frais d'agence s'élèvent à un mois de loyer + TVA 17% et sont à charge du locataire. Disponibilité: de suite
FIRST
Apartment for rent in REULER 12TC1
Agréable appartement situé au rdch d'une résidence de 2014. Appartement composé de - séjour avec coin cuisine équipée, sortie sur balcon de 6m² - wc séparé - 2 chambres à coucher - salle de douche, lavabo, wc - cave - 1 emplacement intérieur.
Apartment for rent in MARNACH 132JP
Appartement au rez-de-chaussée de 77,16 m2 hall d'entrée living-cuisine équipée balcon 2 chambres à coucher salle de bains WC séparé cave garage emplacement extérieur loyer: 920 € + 240 € charges caution: 1.840 € frais d'agence: 1.076,40 € libre à convenir Contrat de travail CDI pour équivalant exiger! PAS D'ANIMAUX! Disponibilité: à convenir
Apartment for rent in ESELBORN 13D0J
Appartement à louer à Eselborn L'appartement de 94,76 m² se compose comme suit: un hall d'entrée (8,76 m²), un séjour (25,59 m²), une cuisine équipée (12,36 m²), 3 chambres à coucher (12,73 m² / 15,40 m² / 12,52 m²), une salle de douche avec WC (7,40 m²) et un grenier. L'appartement dispose également de deux emplacements extérieurs. Disponible immédiatement. Loyer: 1.300 EUR charges comprises ! Caution: 2 mois de loyer Commission: 1 mois de loyer + TVA Pour tout complément d'information et/ou des visites éventuelles, contactez-nous au numéro +352 26 95 71 11.
Apartment for rent in CLERVAUX 132D7
beautiful apartment completely renovated, first occupation, in the city center and close to all amenities, consisting of: 2nd floor: entrance hall (5.33 sqm), cloakroom (2.34 sqm), living and dining room (34.15 sqm) with fitted kitchen (8.66 sqm) with access to the balcony (5.52 sqm), 2 bedrooms (14.50 sqm) + 15.60 sqm), 1 shower room with W.C. (6.50 sqm) and connections for washing machine, storage room (3.14 sqm), separate W.C. (1.54 sqm) on the ground floor: indoor parking, cellar (5.40 sqm) pets: NOT allowed minimum lease: 2 years max occupancy: 3 people monthly charges: 200 € deposit: 3.360 € agency fees: 1.310,40 € total to pay the first time: 5.990,40 € please visit our website www.immoansay.lu video under: https://youtu.be/cwdHImTM_Ek
Apartment for rent in CLERVAUX 11OY9
Lafôret Capital offers this beautiful apartment (one bedroom, one grand living room, a kitchen, a hall, a separate toilet, a bathroom, a garage, a cave, and 2 parking spaces) in Clervaux 5 minutes from the train station and bus (very near to the Lycée of Clervaux) with a living space of ​​± 60m ²; The apartment is on the third floor and has a hall of 8sqm, a living room of 28sqm, a kitchen (Bosch) of 7sqm, a bedroom of 12.40sqm, a hall bath of 4.31m ², a balcony of 1.82m ² and a cellar of 4.91m ². Technical details Oil heating, new bronze flooring, double glazed window and integrated interior shutters. The property is ready for all conveniences; from the city center and new high school of Clervaux, Rent of 1050 € Charges: 150 € per month Agency fees: 1228.5 € Vat included Deposit: 2 months rent (2100,00 €) CDI Work Contract requested. Availability: 1 December 2019 * No animals. For all information: 691 116 476. We are always looking for new properties to offer our customers, contact us! Thank you very much.
Apartment for rent in REULER 11ZPB
Bel appartement, d'une surface habitable de 95m² à louer dans le petit village rural de Reuler. Cet appartement se situe au rez-de-chaussée et se compose de deux halls de 13,90/10,60m², d'une cuisine équipée de 12,40m², d'un living de 21,90m², d'un débarras de 1,80m², de deux chambres à coucher de 16,60/13,40m² et d'une salle de douche de 3,50m². Pas d'animaux admis. Emplacement extérieur disponible sur place. Possibilité d'une location d'un garage pour 75,- EUR/mois. Disponibilité: de suite Loyer: 975,- EUR Charges: 175,- EUR Caution: 2 mois Les frais d'agence s'élèvent à un mois de loyer + TVA 17%, à charge du locataire.
Duplex for rent in MARNACH 122ZA
Pour cet duplex il faut obligatoirement un contrat CDI fixe. IMMO SL vous propose ce duplex au rez-de-chaussée qui est composé comme suit: - un hall d'entrée - un WC séparé - une cuisine équipée - salle a manger avec terrasse et jardin - salon - 1 chambres avec balcon - 1 chambres avec dressing - une salle de bain Emplacement intérieur. Libre le 15/03/2020 2 mois de caution: 2.720€ Commission d'agence: 1.287€
Send an inquiry to real estate agents having property that matches your criteria.

Suggested listings in proximity