Apartment sale hellange
5

results match your criteria

Receive new ads as soon as they are published
Duplex for sale in HELLANGE W4GE
1 250 000
230 m²
4 Rooms
2
2
!!!!! Sous compromis !!!! BELARDIMMO vous propose en EXCLUSIVITÉ ce magnifique triplex luxueux d'environ 230m2 au dernier étage d'une belle résidence; il se compose comme suit: À l'étage 1 il y a un hall d'entrée avec placards, une cuisine équipée ouverte Ensuite il y a 2 chambres à coucher avec dressing, une salle de douche avec une douche italienne luxueuse, un spacieux salon-salle à manger, un grand balcon. À l'étage 2 vous trouverez encore un hall, une grande chambre avec dressing, et une suite parentale avec une salle de bain privative comprenant une baignoire et une douche à l'italienne . Curieux s'abstenir. Pour plus d'informations et de photos supplémentaires contacter l'agence. Énergie : GES (Gaz à effet de serre) - C
Apartment for sale in HELLANGE 1EKAQ
725 000
114 m²
3 Rooms
1
1
KB Group Real Estate (+352 28 99 33 33) vous propose en exclusivité ce magnifique duplex de +/-114 m², avec une place de parking intérieure privative, une grande cave dans la commune de Hellange. À proximité du parc merveilleux, des transports en commun, ce duplex se compose comme suit : Au 1er niveau : - 1 cuisine entièrement équipée ouverte sur le séjour - 1 chambre à coucher avec douche - 1 WC séparé Au 2nd niveau : - 2 chambres à coucher - 1 salle de bains Avec le duplex, vous disposez d'un emplacement de parking intérieur et une grande cave. Estimations offertes ! Si vous disposez d'un bien à vendre ou à louer, toute l'équipe KB GROUP REAL ESTATE est à votre entière disposition pour vous conseiller et mettre en œuvre tout son savoir-faire en vue d'une commercialisation professionnelle et rapide de votre propriété. Pour tout renseignement supplémentaire veuillez nous contacter : Tél. +352 28 99 33 33 E-mail : info@kbgroup.lu
Under offer
Penthouse for sale in HELLANGE 14MLT
970 000
150 m²
4 Rooms
2
2
+++ NOUVEAU PROJET +++ classe énergétique A-B Le projet de 2 maisons Bi-familiale qui se situe à Hellange dans un quartier calme, d'architecture sobre moderne et élégante qui conjugue bien-être et environnement. Nous avons l'honneur de vous présenter : Une résidence de très grand standing en état future d'achèvement se composant de 2 appartements avec deux chambres à coucher et jardin et 2 duplex avec 4 chambres à coucher et jardin. Tous les appartements seront livrés clés en mains, cuisine équipé offert (*), peinture, douche italienne et paroi sont comprises dans le prix de vente. Tous les logements bénéficient d'une cave. Nous avons apporté une attention particulière sur le confort en utilisant une ventilation mécanique contrôlée individuelle, qui assure un renouvellement constant de l'air ambiant permettant à chaque appartement de régler le débit d'air individuellement. Le programme " Villa Margaux " d'une qualité et d'une prestation de grand standing grâce à une sélection rigoureuse des matériaux utilisés : Volets roulants électriques Fenêtres triple vitrage Schüco Portes palières du type Blindée Vidéo parlophone. Cuisine équipé offert (* voir conditions à l'agence) Chauffage au sol avec thermostat dans chaque pièce N.B. DUPLEX détail des surfaces : Duplex surface 150,28m2 Duplex 132,69 m2 + 1/2 (Terrasse 1 18,82 m2 + Terrasse 2 12,97 m2 + Balcon 3,39 m2) Double emplacement intérieur en enfilade vendu séparément à 40.000 € TVA à 3%. Construites avec des matériaux d'excellente qualité, la résidence est conçue pour vous offrir des pièces de vie avec de beaux volumes et beaucoup de luminosité grâce aux nombreuses baies vitrées. Dans notre showroom, il est possible de visualiser et de choisir tous les équipements proposés. De nombreuses possibilités de personnalisation sont possibles pour le choix des finitions privatives. Plans et cahier des charges disponibles sur demande. Pour de plus amples renseignements, n'hésitez pas à contacter au numéro 691 183 835 ou à info@gigante.lu. *Nos prix sont TTC 3% sous réserve d'agrément du bureau d'imposition XII de l'Administration de l'Enregistrement Commission d'agence 1,5% payer par le vendeur
Under offer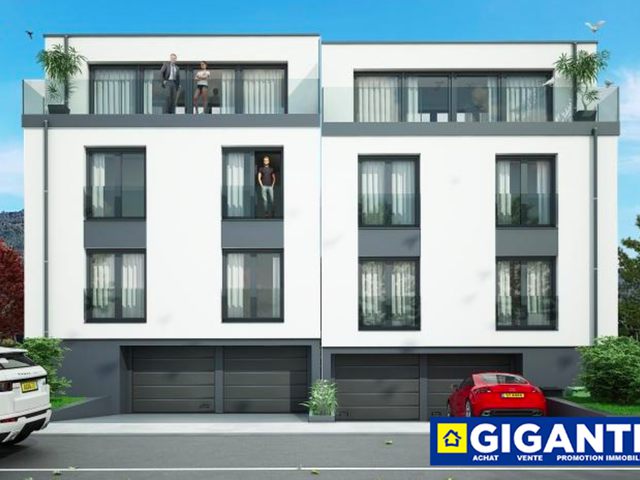 Duplex for sale in HELLANGE 11L2L
970 000
150.28 m²
4 Rooms
1
2
+++ NOUVEAU PROJET +++ classe énergétique A-B Le projet de 2 maisons Bi-familiale qui se situe à Hellange dans un quartier calme, d'architecture sobre moderne et élégante qui conjugue bien-être et environnement. Nous avons l'honneur de vous présenter : Une résidence de très grand standing en état future d'achèvement se composant de 2 appartements avec deux chambres à coucher et jardin et 2 duplex avec 4 chambres à coucher et jardin. Tous les appartements seront livrés clés en mains, cuisine équipé offert (*), peinture, douche italienne et paroi sont comprises dans le prix de vente. Tous les logements bénéficient d'une cave. Nous avons apporté une attention particulière sur le confort en utilisant une ventilation mécanique contrôlée individuelle, qui assure un renouvellement constant de l'air ambiant permettant à chaque appartement de régler le débit d'air individuellement. Le programme " Villa Margaux " d'une qualité et d'une prestation de grand standing grâce à une sélection rigoureuse des matériaux utilisés : Volets roulants électriques Fenêtres triple vitrage Schüco Portes palières du type Blindée Vidéo parlophone. Cuisine équipé offert (* voir conditions à l'agence) Chauffage au sol avec thermostat dans chaque pièce N.B. DUPLEX détail des surfaces : Duplex surface 150,28m2 Duplex 132,69 m2 + 1/2 (Terrasse 1 18,82 m2 + Terrasse 2 12,97 m2 + Balcon 3,39 m2) Double emplacement intérieur en enfilade vendu séparément à 40.000 € TVA à 3%. Construites avec des matériaux d'excellente qualité, la résidence est conçue pour vous offrir des pièces de vie avec de beaux volumes et beaucoup de luminosité grâce aux nombreuses baies vitrées. Dans notre showroom, il est possible de visualiser et de choisir tous les équipements proposés. De nombreuses possibilités de personnalisation sont possibles pour le choix des finitions privatives. Plans et cahier des charges disponibles sur demande. Pour de plus amples renseignements, n'hésitez pas à contacter au numéro 691 183 835 ou à info@gigante.lu. *Nos prix sont TTC 3% sous réserve d'agrément du bureau d'imposition XII de l'Administration de l'Enregistrement Commission d'agence 1,5% payer par le vendeur.
Under offer
Exclusiveness
Duplex for sale in HELLANGE 1395D
725 000
118 m²
2 Rooms
1
2
SOUS COMPROMIS! Hellange (luxembourgeois: Helleng, allemand: Hellingen) est une section de la commune luxembourgeoise de Frisange située dans le canton d'Esch-sur-Alzette. Duplex d'une surface habitable de 118m2 avec une surface utile d'après cadastre de 123m2 situé au 2ième et 3ième étage d'une résidence construite en 2013. Au 2ième étage vous avez une Cuisine ouverte sur Living de 58m2 avec accès sur balcon de 12m2. Hall d'entrée de 8m2 et WC séparé. Au 3ième étage se trouvent: 1 chambre avec Dressing de 17m2 1 chambre de 14m2 Salle de bain avec baignoire et douche de 8m2 WC séparé et Hall 2 empacements internes de 12,88m2 et une cave de 6,25m2 Visite virtuelle : https://app.immoviewer.com/portal/tour/1675577?accessKey=5eb8 Disponibilité: à convenir
Send an inquiry to real estate agents having property that matches your criteria.

Suggested listings in proximity