Search area changed by moving map.
Apartment new rent east
8

results match your criteria

Receive new ads as soon as they are published
Listings
at this marker:
x
Exclusiveness
Triplex for rent in EISENBORN 1ISSY
2 400
145.06 m²
3 Rooms
2
Appartement/triplex (017) de haut standing, situé au sein de notre nouvelle résidence "GRUENWALD" à Eisenborn. Proche accès autoroute - Proche Commerce. Toutes les plantations extérieures seront posées. Adresse : 42, route de Luxembourg, Eisenborn. (Junglinster). Situé au sein d'une résidence de haut standing, cet Appartement/Triplex de haut standing se compose comme suit: Au rez-de-jardin : un hall d'entrée, un WC séparé et une cuisine ouverte entièrement équipée et ouverte sur le salon/salle à manger avec accès terrasse donnant sur l'arrière (19.95m2) Au niveau intermédiaire : un hall de nuit donnant accès à deux chambres à coucher dont une avec accès balcon (5.20m2) et armoires encastrées, une salle de douche (Douche, meuble double vasque, WC). Au rez-de-chaussée : un hall d'entrée avec débarras, une suite parentale avec salle de douche privative (Douche, meuble vasque, WC) avec accès à une terrasse de 36.70 m2. Au sous-sol une cave/buanderie et deux emplacements parking complètent le lot. L'appartement bénéficie de tout le confort moderne propre aux nouvelles constructions. Il est équipé d'un système de ventilation à double flux, de volets électriques programmables, d'un vidéophone, de fenêtres à triple vitrage, de chauffage au sol, d'une porte d'entrée de sécurité et de luminaires. Disponibilité : 01/07/2021 toutes les plantations extérieures seront posé. Loyer : 2.400,00€ Charges mensuelles estimées : 380,00€ 3 mois de garantie locative Frais d'agence : loyer + TVA 17% Plan disponible sur notre site internet www.stugalux.lu Pour plus d'informations et visites : M. Théo Weis Fixe : +352454848-426 GSM : +352661350136 E-Mail : theo@stugalux.lu Disponibilité: 01/07/2021 Énergie : GES (Gaz à effet de serre) - A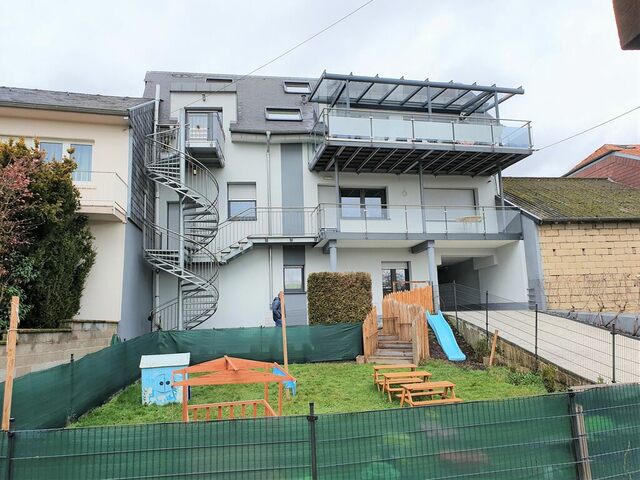 Duplex for rent in BOUS 1I8TM
Située dans la commune de Bous, cette crèche en duplex dans une maison entièrement rénovée en 2013 possède une surface habitable de ± 166 m². La crèche se compose comme suit: Au rez-de-chaussée, le hall d'entrée ± 13 m² avec un wc séparé ± 2 m², mène vers une salle d'eau ± 7 m², une salle de jeux (grand espace) ± 47 m² donnant accès au jardin. Au 1er étage, une entrée ± 6 m², mène vers un couloir ± 10 m² qui dessert une cuisine et un bureau, deux chambre de ±15 et 16m², une salle de jeux de ±35m²et une terrasse de ±20m² Au sous-sol, se trouve une cave avec buanderie Généralités : Crèche déjà installée;; Sol en parquet et carrelage; Triple vitrage, châssis en PVC, volets électriques; Certification E-E; Gaz à condensation Terrasse, jardin, orienté plein Sud; Bous est un village résidentiel, à quelques kilomètres de Remich, Écoles, centre sportif et de loisirs, ...; Parcs de jeux à proximité;   Loyer: sur demande; Libre à partir du 1er Août 2021; Contrat commercial (3-6-9 ans);   Pas de visites des lieux pour le moment à cause des mesures actuelles; Agent responsable: Pierre-Yves Béchet; Tél: +621 654 086; Email: Pierre-Yves@vanmaurits.lu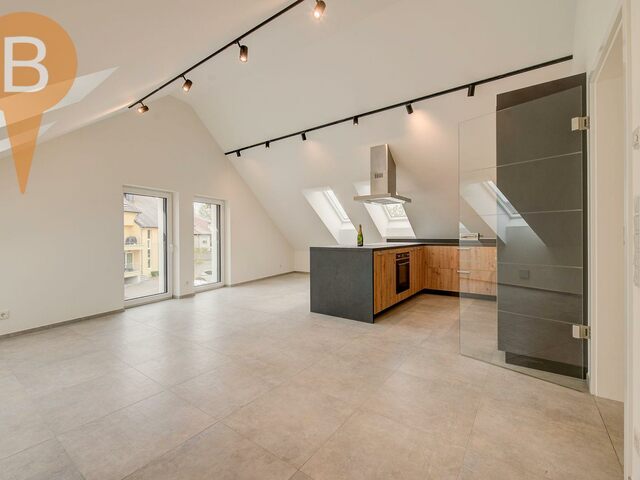 Apartment for rent in IMBRINGEN 1HCC7
Very nice new 2 bedroom flat in Imbringen Address : 22A route de Luxembourg L-6195 Imbringen -- DESCRIPTION -- The flat is located on the second and last floor of a small new residence. It offers high standard finishing and is composed of : - a hall with cupboards ; - a large and bright living room with a cathedral ceiling; - a modern kitchen open to the living room - two bedrooms; - a shower room with walk-in shower and toilet - a separate toilet; - a laundry room in the flat. A cellar and two indoor parking spaces complete this property. The flat is new, it is a first occupation. -- LOCATION -- Located in the village of Imbringen, at only 10 kilometres from Luxembourg-City, you will enjoy the sweetness of the countryside at less than 15 minutes from the City. Availability: beginning of June 2021 If you are interested in this property, please contact us on 26 44 13 88 or by email merl@b-immobilier.lu for more information or to make an appointment. We invite you to visit our website www.b-immobilier.lu where all our offers are regularly updated. -- All rights reserved --
Apartment for rent in ECHTERNACH 1GGGG
B immobilier a le plaisir de vous présenter cet appartement moderne, situé au 1e étage d'une nouvelle résidence (première location) à Echternach. L'appartement a une surface habitable de +/- 110 m² et dispose d'un emplacement intérieur et ainsi d'une cave privative. - Description - Il se compose comme suit : - Hall d'entrée avec vidéophone - 2 chambres à coucher - Grande cuisine équipée avec débarras - Salle de bains avec douche et WC - Grand living/séjour avec vue sur la Sûre - WC séparé - Cave - 1 emplacement intérieur A savoir, lors des visites un dossier est à présenter : - Copie du contrat de travail de tous les occupants. - Les 3 dernières fiches de salaire. - Informations supplémentaires - - Garantie locative 2 mois de loyer. - Le mois d'entrée est à payer en avance. - Commission d'agence: 1 mois de loyer TVA en vigueur. N'hésitez pas à nous contacter pour de plus amples renseignements ou pour organiser une visite des lieux soit par téléphone au n° 352 26 81 13 99, soit par mail au adresse diekirch@b-immobilier.lu. -sous toutes réserves- Disponibilité: immédiate Énergie : GES (Gaz à effet de serre) - A
Apartment for rent in SCHENGEN 1H21J
Belardimmo vous propose en exclusivité un superbe appartement de 3 chambres à coucher. L'appartement est situé au 1er étage sans ascenseur d'une petite copropriété de 3 appartements. L'appartement est composé ainsi : - hall d'entrée - 3 chambres à coucher ( 11,11 et 14 m²) - 2 salles de bain ( 3 et 5m² dont une privative ) - cuisine équipée ouverte - grand séjour avec accès terrasse de 20m² - un débarras - cave - double emplacement intérieur l'un derrière l'autre - jardin commun Charges 200 € Loyer 1600 € Situation calme en face de la Moselle CDI OBLIGATOIRE Pour plus d'informations veuillez me contacter Alessandro Scanzano au 621 402 536
Apartment for rent in CANACH 1HTHG
Tags | apartment/triplex - 3 bedrooms - terrace - cellar - 2 indoor parking places - Canach What: High-end apartment/triplex (with lift on two floors) with a total surface of about 135m2. The building is composed of: on the 1st floor: - a corridor (8,85) - a separate toilet (2.21) - a private laundry room (1,22) - a bedroom (21,43) with balcony (3,34) and shower room (8,45) on the 2nd floor: - a living room (48,29) with access to the terrace of 20,72m2 - an open plan fitted kitchen (8) - a separate toilet (1,51) - a corridor (7,77) on the 3rd floor: - a corridor (5.32) - a separate toilet (1.51) - one bedroom (18 in floor space) - one bedroom (12.5 in floor space) - a bathroom (4.63) The flat is equipped with an intruder alarm, air conditioning in the living room and in the bedrooms on the top floor, as well as a private cellar and two indoor parking spaces. Where: In Canach, a section of the municipality of Lenningen in the canton of Remich, which is also home to Luxembourg's largest golf course, the Kikuoka Country Club, nestled in an exceptional natural setting. Why: The building is ideally located near a bus stop with connections to the Kirchberg finance centre and the European school. A small mini-market is also located a few meters from the building. The flat is available upon agreement. Some of the furniture currently in the flat can be bought back from the previous tenant. Rent : 2'100€ Utilities : 250€ Guarantee : 6'300€ Agency commission : 2'457€ VAT incl. Availability : upon agreement All information has been provided by the owner. No responsibility is assumed for the accuracy and completeness of this information. Please contact Mr Jean-Paul ROMMES on GSM 621 68 77 76 or by email at info@living-concepts.lu if you wish to arrange an appointment or have any further questions.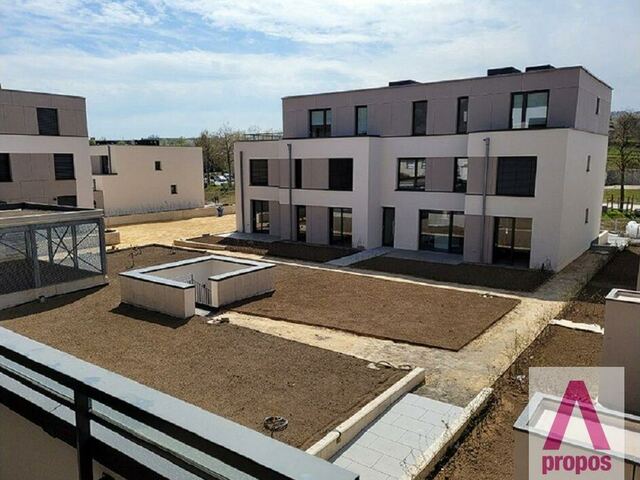 Apartment for rent in JUNGLINSTER 1G2GA
Objet à ne pas manquer - nouvel appartement à louer 10, rue de la Gare, L-6117 Junglinster L'appartement s'affirme par sa situation centrale dans le beau village de Junglinster et se prolonge par une généreuse loggia de 13,21 m² exposée sud avec vue dans une large cour arborée. L'appartement comprend sur une surface nette de 70.18 m² un hall d'entrée, séjour avec accès sur loggia, cuisine équipée ouverte sur le séjour, 2 chambres, salle de bains, WC séparé, cave, buanderie commune et 1 emplacement parking Nouvelle construction, première occupation Equipements revêtement au sol : carrelage cuisine équipée avec four, plaque de cuisson électrique, grand réfrigérateur/congélateur combiné salle de bains avec baignoire volets électriques luminaires installés fibre optique prises internet dans toutes les pièces Loyer : 1.600 EUR Charges : 250 EUR Jouissance : début mai 2021 Classe énergétique : A-A-A Localisation 14 km de Kirchberg 14 km de l'Aéroport Findel 16 km de Luxembourg-Ville 20 km Cloche d'Or 15 km de SES, Betzdorf 21 km Port de Mertert Mobilité La commune est bien desservie par les transports publics de jour (Bus lignes 110, 111, 107) comme de nuit (+ City Bus, Night Rider et Late Night Bus). Park & Ride à Junglinster. Commodités à proximité Epicerie Delhaize Lidl Coiffeurs- parfumerie Institut de beauté CASA Opticien Cordonnerie Fleuristes Fitness Laboratoires Médecin Kinésithérapeute Enseignement Cycles précoces, préscolaires et fondamentales Lënster Lycée Crèches Loisir La commune offre une multitude d'activités sportives et culturelles, entre autres Tennis Golf Football Piscine Volleyball …. Théâtre Café des langues Bibliothèque Ambassadeurs de voisinage Pour de plus amples renseignements veuillez contacter l'agence A propos Immobilier T. +352 26 38 37 48 / E. info@apropos.lu Disponibilité: mai 2021 Énergie : GES (Gaz à effet de serre) - A
Apartment for rent in MANTERNACH 1AU2D
Wir bieten Ihnen hier eine einzigartige Neubau Wohnung in Manternach an. In einer ruhigen Seitenstraße gelegen, kommt man hier gerne nach einem langen Arbeitstag zuhause an. Diese 60m2 Wohnung verfügt über eine offene Wohnküche, einem Schlafzimmer, ein Badezimmer, sowie einem zusätzlichen separaten WC und besticht neben der Fußbodenheizung nochmal durch Ihren speziellen Schnitt. Zur Zeit wird die Wohnung noch fertig gestellt und wird voraussichtlich 01. Mai 2021 verfügbar sein. Melden Sie sich und sichern Sie sich ein Stück Lebensqualität und genießen Sie auf Ihrer Terrasse von 6,73 m2 die frische Luft der Region Grevenmacher. Gute Autobahnanbindung zur Stadt Luxemburg und Trier. 2 Stellplätze sind inklusive. Nebenkosten: 200,-€ Kaution: 3600,-€ Provision: 1.404,-€
Send an inquiry to real estate agents having property that matches your criteria.

Suggested listings in proximity