This object is part of this building: (
46)
Residence for sale in LUXEMBOURG-BELAIR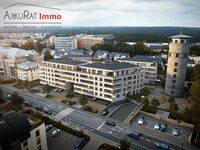 More infos
1
person is interested in this ad today.
Contact the advertiser
Luxembourg / Center / Luxembourg / Luxembourg-Belair
1 098 520 €
Finance
Description
APARTMENT for sale in LUXEMBOURG-BELAIR (Luxembourg, Center), Luxembourg.
Living suface (m²) 94.65.

Partner agency for more than 6 years
Agency reference: 4234888
Sale Details
Agency fees at the expense
Not communicated
Simulate the monthly payment of your home loan
The exact address of this ad is not communicated.
Request property address
Municipality of Luxembourg
51,46 km²
107.247 inhabitants
2.084 inhabitants/km²


Marie GRANDJEAN
Company manager
Partner agency for more than 6 years

Marie GRANDJEAN
Company manager
Akkurat Immo
Partner agency for more than 6 years