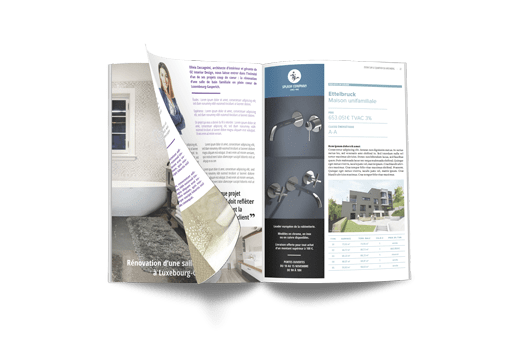 IMMOTOP.LU — Real Estate Magazine
Published for the first time in March 2013, the IMMOTOP.LU® Real Estate Magazine was distributed to thousands of residents in Luxembourg and border dwellers of the Greater Region. Our magazine, which is printed in 10,000 copies for each of its editions twice a year, highlighted the real estate news of the Greater Region and gave practical advice for construction, purchasing or renovation projects. It also allowed real estate agencies to publish their best advertisements for key events such as Home and Living during National Housing Week.
Issue 13 that was published in October 2016 was the last IMMOTOP.LU® Real Estate Magazine.
In 2017, our project is now focused on publishing an annual magazine that is more complete and more practical, without direct expiry over time. Printed in more copies than its previous magazine, it will reach even more people and will have a real added value in terms of technical knowledge and advice for residents or border dwellers, who want to build, buy or rent real estate property.
Find below the digital version of all our magazines, and follow us on the social networks to be informed of the publication of our next editions!
Professionals: would you like to take advantage of the quality of the targeting and the audience of our magazine to promote your activity that is directly or indirectly related to real estate business? Do not hesitate to contact us.
IMMOTOP.LU - Magazine Immobilier